Disco Granny Strikes Again But This Time With Her Butt Out And On The Floor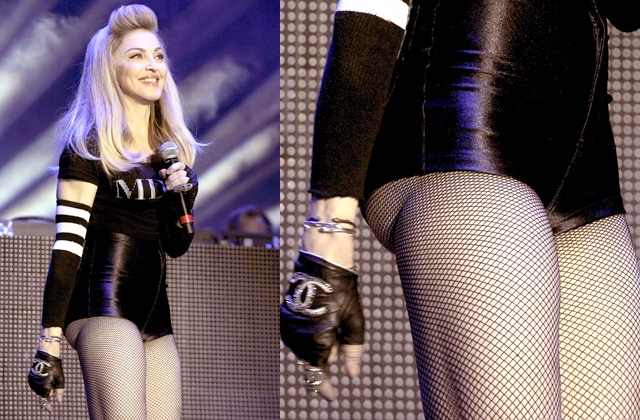 Granny GaGa's butt has dropped to the dance floor. You know, I don't think that's what rappers mean when they say "drop it like it's hot."
One headline hilariously blared, "Too old for hotpants? Madonna's butt hangs out on stage." I laughed so hard when I saw the photo and read the article." Madonna's butt was scraping the floor on stage at the Ultra Music Festival, two famous DJ slammed her over, due to stupid pro-drugs statements she made (senility maybe).
It's a sad day for Madonna...the pop icon took to the stage at a Miami music festival on Saturday in a rather age-inappropriate pair of hotpants paired with fish net tights — but unfortunately the outfit didn't quite contain her assets. Madge's butt hung out of her spandex shorties in a rather, er, saggy fashion...her backside wasn't the only low point of the night — Madonna was also slammed by Canadian electro artist Deadmau5 after she made an onstage reference to "Molly" — slang for ecstasy — during her performance. "Very classy there Madonna … such a great message for the young music lovers," he wrote on his Facebook page. "F--- off you f---ing idiot. F---."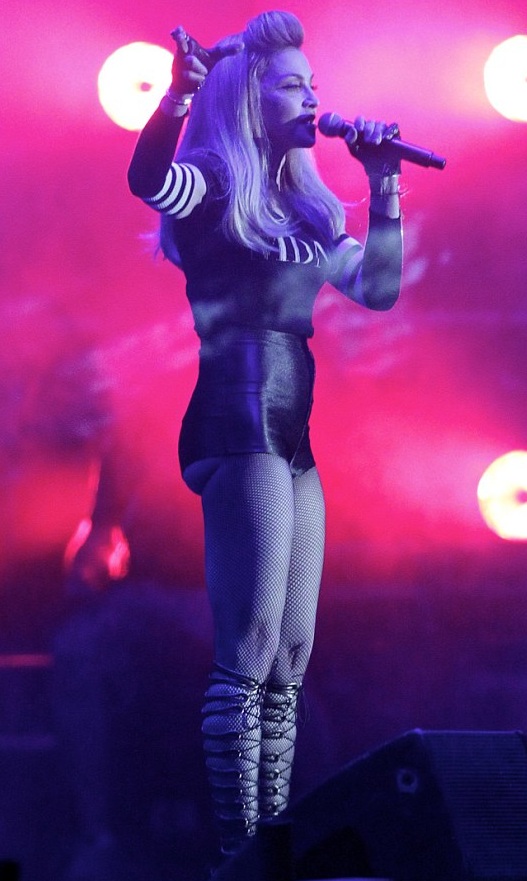 eww!
A Slate headline stated, "This Used To Be My Playground. Is Madonna too old to make Madonna-music?" It's embarrassing for her, but Madonna is making a massive fool of herself trying to look, act and pretend she is 21. It is undignified and delusional. Then again, artists who have talent don't have to do such things, as no matter they age, they can go on stage and sign, without the gimmicks and shenanigans.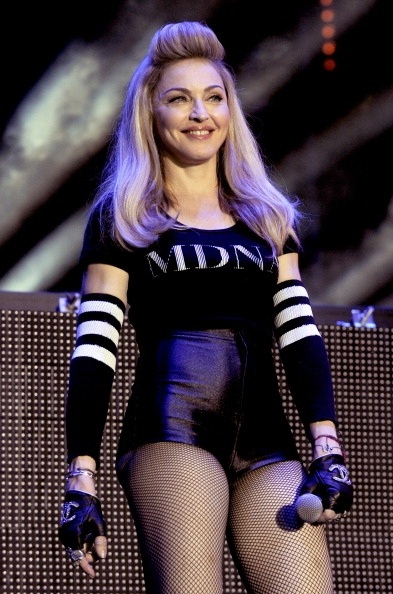 She looks nasty!
In response to claims on Newser that Madonna has spent $87,000 buying three facial machines, commenter wjamny stated, "It hasn't helped... she's three machines away from becoming the crypt keeper" (Madonna Has Spent $86K on Her Face).
The blog Celebrity Dirty Laundry ripped Madonna the most in a cutting post about her entire career and current failed efforts:
53-year old, Madonna was all set for her 'comeback' this year with a new album and the chance to launch her debut single, "Give Me All Your Luvin" in front of 114 million viewers at the Super Bowl, how could she possibly fail? Well, she did exactly that, FAIL!
In mid-February, Madonna's first single couldn't even make it to the top ten of the UK charts, which many people thought was a sign that the album was doomed to fail since that was the first time the lead track from one of her albums did not go into the top ten UK charts since 1982
Madonna's second single, "Girl Gone Wild" is now a HUGE flop in the USA and Canada, worst than the first single. Furthermore, one concert has already been cancelled because not enough tickets were sold.
I wasn't surprised back in February when Madonna's first song flopped in the UK and I am certainly not surprised now. Madonna is 53 years old and all she tries to do is copy young artists which ends up making her look really lame. Her new work is immature and disappointing and not what fans expect from the "world's top-selling female recording artist of all time."
I always found Madonna overrated, even in the 80′s. She really can't sing and always did things on stage to shock people and cause controversy. Her recent 'FLOP' tells me that people are finally seeing her for what she is, an outrageous stage show with mediocre singing. Time to retire Madge!
http://www.celebdirtylaundry.com/2012/madonna-fails-tour-date-cancelled-and-second-single-a-huge-flop-0312/
RELATED ARTICLES
Malawi To Pop Star Madonna Who Stole Financial Donations From Them: You Stink!
Madonna's Connection To Phone Hacking And Wiretapping Scandal
The Daily Mail Is Actively Engaging In Hacking, Phone Hacking And Wiretapping
The FBI Corruptly Granted "Sovereign Immunity" In The Aisha v. FBI Case
Madonna Has Been Getting More Plastic Surgery In Trying For A Comeback After Failed Albums
Madonna And Kabbalah Close Their Corrupt Charity Due To Criminal Investigation
Rupert Murdoch Finally Admits His Company's Phone Hacking And Wiretapping Crimes
Report: Kabbalah Cult Under Grand Jury Investigation
Madonna Fraudulent Charity For Africa Squanders Millions On Big Salaries & Luxury Items For Greedy Kabbalah Members
Senator Demands FBI Investigate Rupert Murdoch For Hacking Rival & Stealing Their Copyrights
Fox News Has A Secret Phone Hacking Department In The Building Says Former Employee