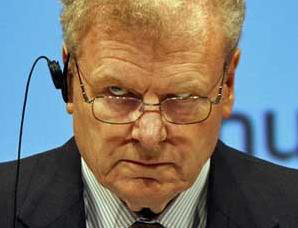 Howard Stringer
Sony is losing money at a drastic rate, having hemorrhaged several billion dollars, coming in dead last behind competitors such as Apple and Samsung. The company was battered by hackers who stole everything that wasn't nailed down.
The company has also been hit by many copyright infringement, patent infringement and trademark infringement lawsuit, for the blatant and criminal theft of other people's intellectual property. As a result of all the disfavor and financial deterioration, Sony will be laying off 10,000 people.
If they would focus on actually trying to come up with something original, rather than stealing everything under the sun, companies such as Apple, Samsung and Nintendo would not be trouncing them in the marketplace.
STORY SOURCE