Scam To Get The #1 On Billboard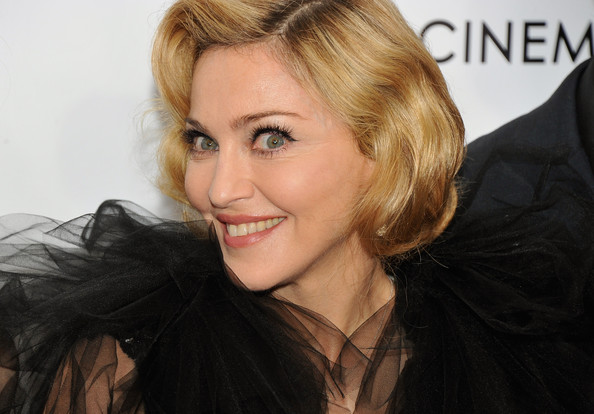 Cheat, fraud and thief Madonna
Never one to do anything honestly, Madonna gave away copies of her new CD "MDNA" in order to get the number one spot on Billboard's album charts last week, which should not have counted. She knew people have not been buying her products and the first two singles from "MDNA" were publicly pronounced the biggest flops of her career. Her music is being wholly rejected by the public, hence the terrible sales.
In a desperate attempt to save face, Madonna gave away the "MDNA" album to those that allegedly bought tickets to her upcoming concert tour, which is also flopping, forcing cancellations, due to lack of interest. What a farce! The problem is concert ticket sales can be faked as well, in fraudulent conduct she has been caught red-handed doing for several tours.
Furthermore, many concert tickets are given away as promotional items. What she has done is discredit the Billboard charts, casting aspersions on its accuracy. She has also tainted the history books, as she did not earn or deserve the number one spot.
Madonna's pathetic conduct also created a disgraceful historic record - the biggest second week sales drop in Billboard history. The bulk of the concern tickets were put through in one week to coincide with the release of the "MDNA" CD that was given away. She now has to live with the dubious distinction. That's what she gets for being such a cheat and a fraud.
This means any idiot could give away millions of copies of a CD and proclaim themselves the best selling artist of all time without having sold a single album. I ask, is that right, fair or accurate in any measure. No, it's a scam.
It is not fair to other artists, who are actually popular and sell albums that such a scam took place, depriving them of the top slots, over a criminal copyright infringing CD, "MDNA" packed with other entertainers' music Madonna unlawfully stole and butchered. There should be a rule against such conduct on the charts and on CDs. The woman is a complete fake.
However, I was told by a very credible source it is burning her to know how few CDs she actually sold (in the five digits), as Madonna and Interscope know the real numbers and much like her, it is not pretty (LOL). She is very upset about it.
It didn't cost very much to pull off the scam. They pressed up about $30,000 in CDs, most of which are sitting in a warehouse. The big costs came courtesy of the promotional campaign for "MDNA" via buying advertising and bribing journalists and bloggers to write glowing reviews.
Ironically, some of the people that were paid to promote the CD online, could not stomach even listening to it and slammed it to people offline. Well, you could put the free "MDNA" CD to good use by using it to prop up any wobbly desks in your office.
She is so over. When you go to such extremes to fake sales, you should not be allowed to call yourself a star. Nothing about her is real. She steals other people's copyrighted work she tries to pass off as her own, she fakes her concert and music sales, she pays her young boyfriends and girlfriends for sex and dates and she's had enough plastic surgery for 50 people (yet manages to look older than her age). Can you say fail.
RELATED ARTICLES
Madonna's Dumb New Album That Is Being Boycotted Flops In A Fiasco That Is The Worst Of Her Career
Hotpants Wearing Madonna Mocked On Websites For Not Aging Gracefully
Malawi To Pop Star Madonna Who Stole Financial Donations From Them: You Stink!
Madonna's Connection To Phone Hacking And Wiretapping Scandal
The Daily Mail Is Actively Engaging In Hacking, Phone Hacking And Wiretapping
The FBI Corruptly Granted "Sovereign Immunity" In The Aisha v. FBI Case
Madonna Has Been Getting More Plastic Surgery In Trying For A Comeback After Failed Albums
Madonna And Kabbalah Close Their Corrupt Charity Due To Criminal Investigation
Rupert Murdoch Finally Admits His Company's Phone Hacking And Wiretapping Crimes
Report: Kabbalah Cult Under Grand Jury Investigation
Madonna Fraudulent Charity For Africa Squanders Millions On Big Salaries & Luxury Items For Greedy Kabbalah Members
Senator Demands FBI Investigate Rupert Murdoch For Hacking Rival & Stealing Their Copyrights
Fox News Has A Secret Phone Hacking Department In The Building Says Former Employee