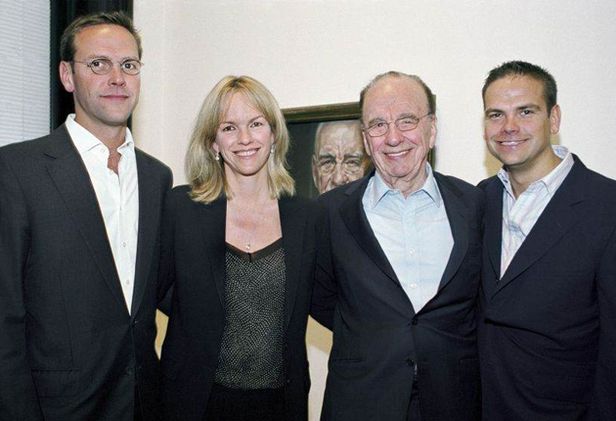 News Corp's James Murdoch, Elisabeth Murdoch, Rupert Murdoch and Lachlan Murdoch
Stuart Hoare, a brother of the late journalist, Sean Hoare, who worked for Rupert Murdoch's News Corp, gave evidence today in the phone hacking inquiry before the British Parliament, testifying that the criminal practice began at the company's Sun Newspaper UK. His testimony today, supports what I wrote years ago, when I broke the story first, via the formal complaint I filed with the Metropolitan Police in October 2005 as seen here.
For the record, filing a false report is a criminal offense. You cannot just file a police report, especially one of such a serious nature, with no consequence if you are lying. I have been telling the truth all along, as time has and continues to show, via the manner the scandal keeps unfolding. At the end of the day, I'm a serious person dedicated to my work in the areas of science, technology and entertainment. I don't have time for the foolishness these high profile criminals have been doing that has greatly interfered with my work.
At the time I went public with the story in 2005, I was defamed and harassed by some for being the first to speak out, but I had more important goals at hand (my aforementioned work) and was not raised to compromise with people too perverse and lazy to earn an honest living. I will never tolerate or cover up what has happened for all the money in the world, as criminally invading people's privacy and terrorizing them is illegal and disgusting.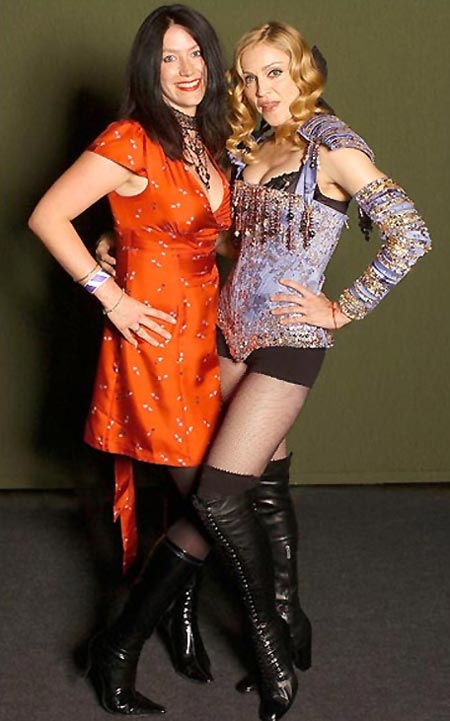 Madonna and Victoria Newton who used to write the Sun's "Bizarre" column until she was quickly promoted though she is a terrible writer
Case Background: I discovered the misconduct transpiring against me, when items I wrote by email, articles I authored in my computer to be published on my websites and things I said over the phone privately to people such my dad, who is a well-known, award winning Jamaican radio personality and a musicologist with 40-years expertise, would wind up excerpted verbatim, word for word, in the Sun Newspaper UK column called "Bizarre" which is written by Madonna's crony, Victoria Newton. They would illegally hack items from my private phone calls, emails and computer that had nothing to do with them and publish it days later in the "Bizarre" column as Madonna stories and sometimes as blurbs about other entertainers.
I then noticed the misconduct spreading to the News of the Word and later the Wall Street Journal, all owned by News Corp. Items also illegally appeared in the Fox News column of Roger Friedman, which was also owned by News Corp. For some reason, Madonna then switched to criminally spreading items from my phone calls, emails, text messages and computer contents to the Daily Mail UK (an example is listed here).
Throughout the misconduct, via an illegally obtained copy of my extensive, unpublished Library of Congress Copyright Catalog that Madonna obtained a copy of via hacking, songs, music videos, film scripts, clothing lines and other items that took me over 20 years to author, were criminally sold by her to various entertainment industry people and companies she is affiliated with.
She illegally sold items from my preexisting Copyrighted Catalog to Rupert Murdoch's 20th Century Fox film company, apart of News Corp. Madonna also criminally sold items from my copyrights to Murdoch's daughter, Elisabeth Murdoch, who is a frequent house guest in London according to papers and she in turn unlawfully released them at her crooked company Shine that News Corp just bought at a very inflated price, at the shareholder's expense.
Madonna also criminally sold items from my Copyrighted Catalog to Warner Bros music and film, a company she worked for from the beginning of her career up until her last flopped CD. From there it spread to the BBC, who has a deal with Warner Bros to distribute their DVDs all over the world. My preexisting copyrights were turned into shows like "Demons" (by Elisabeth Murdoch) "Primeval" "Torchwood" and "Survivors"
Madonna then criminally spread it to Sony, as they share the same copyright lawyer of the Manatt law firm, who is firmly involved in the crimes. Over 20 years of my labor criminally stolen and devalued by a group of lazy degenerates, who took writer's credit, awards and a fortune in royalties for them. She then began criminally selling items to Universal Music Group. And make no mistake, they all know the work is criminally stolen and that they are illegally buying "stolen goods" at deeply discounted prices.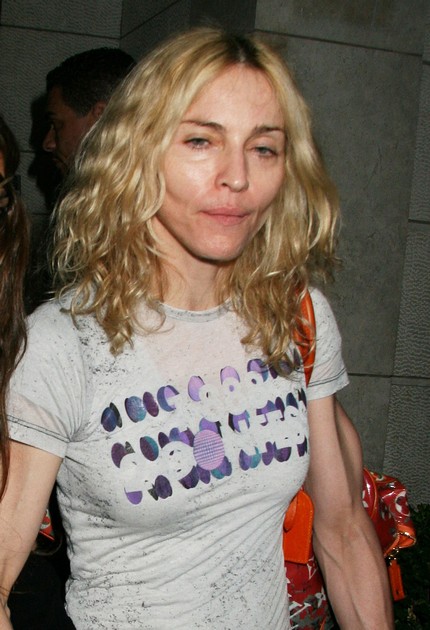 Mad-onna
Last week, a News Corp employee was arrested in England for bribing the Metropolitan Police in the scandal. She is one of many that did this, which led to the public resignation of the police force's top two officials. This problem has been occurring at the Federal Bureau of Investigation (FBI) as well, where the head of the agency, Robert S. Mueller, also took a bribe, to suppress the phone hacking, hacking, wiretapping and copyright crimes that are occurring in America on a massive scale, related to the scandal. Congress isn't doing anything about it, because many of them have received big campaign donations from Rupert Murdoch's News Corp and others involved in the scandal.
I was told by a connected man in the international community that Madonna has been stashing much of the illegal proceeds from the massive thefts in offshore accounts. I was also told by a songwriter in America, whose works have been published, that the aforementioned criminals in the case conspired to divide up my copyrights among themselves, without permission or payment to me, in a calculated conspiracy, with one of the white CEOs involved arrogantly stating, "A nig*er shouldn't have all this" and "let's rob this ni*ger." The rest concurred.
Imagine that, I wrote these works over the course of 20 plus years and a group of losers criminally decided that I am not to have it. They have officially reverted America to slavery days, where blacks are not to own property or prosper and are to be exploited. And that is Hollywood for you, ladies and gentlemen - the most racist, hateful group in existence. Certain people clearly still view black Caribbeans as slaves and that is the only conclusion I can reasonably come to in the face of all this terrible conduct. My late godmother's husband, who discovered and produced Bob Marley and many other stars, Clement "Coxsonne" Dodd, for all his great musical accomplishments, spent just as much time in court, as he did making music in the studio in Jamaica, because people kept stealing his copyrights.
But this time around it is far worse. Had this foul old madwoman not done this, my forthcoming cancer and AIDS pharmaceutical patents would have been on the market already prolonging people's lives. My invention to help the blind would have already been released as well. But apparently Hollywood is of the view people would rather see their ugly backsides on television flaunting stolen work than get well. This delay happened at the government and entertainment industry criminals' hands and for what? All so some untalented, lazy, thieving high profile criminals can increase their bank accounts with ill-gotten gains at the expense of a hardworking person.
I don't understand that kind of mentality, where you know you did not write something, but you criminally steal it, change a line or two or note or two, erase someone's name from the writer's spot and place your own instead, cash massive checks and accept numerous awards for the pilfered property, then parade around the world like maniacs, boastfully claiming you wrote something you snatched in violation of domestic and international law. All I can deduce is the people doing this wholesale theft, were raised very badly by very unethical people that failed in life by bequeathing such thieving, disgraceful people to the world. There is no way anyone that was raised right would do such evil things.
STORY SOURCE
Intercepting voicemails began at The Sun, inquiry is told
20 Dec, 2011 02:30 AM - LONDON: A former News of the World reporter who turned whistleblower on the phone hacking scandal told his brother that intercepting voicemail messages was also common at Rupert Murdoch's biggest selling British newspaper, The Sun.
http://www.theislanderonline.com.au
Rupert Murdoch Finally Admits His Company's Phone Hacking And Wiretapping Crimes
Madonna Fraudulent Charity For Africa Squanders Millions On Big Salaries & Luxury Items For Greedy Kabbalah Members