Ashton Kutcher and Lorene Scafaria
Ashton Kutcher, 33 has been sleeping with anything that moves and openly so, since his split from fellow Kabbalah member, actress, Demi Moore, 49. He has been spotted in Hollywood, Idaho, Berlin and Pisa with different chicks, taking them back to his place. This past week, Kutcher was spotted with screenwriter, Lorene Scafaria, holding hands over lunch, then going back to his place, which only means one thing with a Hollywood actor. They're doing it.
Kutcher has also been secretly sleeping with famous young women in Hollywood, as noted by hotel staff, but said chicks are afraid to go public with it, realizing Moore is very vengeful and will try to damage their careers and personal lives, which is the Kabbalah way. Moore is still very much in love with Kutcher and is upset by his playboy behavior. He has been sleeping with a number of women that are half her age, which include blondes and brunettes, killing her cougar image.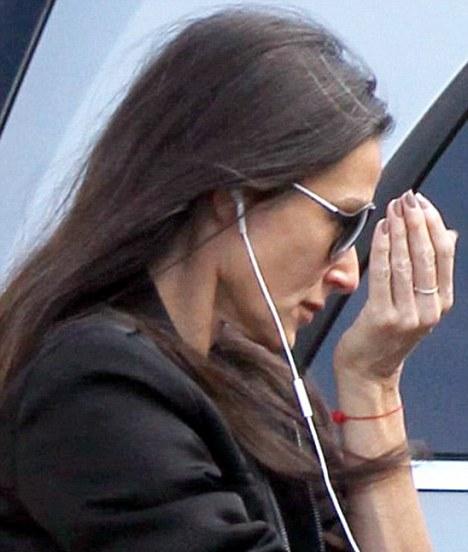 Demi Moore (Photo Credit: X17Online)
Moore spent Christmas without him, which has upset her even more, as he gave other women pricey gifts and his affection. She was seen moping around at Christmas. People in Hollywood are saying she has become unhinged over his conduct, publicly flaunting his young conquests in her face and embarrassing her in front of everyone.
Kutcher is playing with fire pushing Moore's buttons like this. He blames her for stealing six-years of his youth and is trying to make up for it now by losing himself in young women, drinking, smoking and partying, which is dangerous (people do dumb things when they are drunk). Kutcher also wants to have kids, something Moore could not give him. He told someone in Hollywood that Moore, "Pushed me into marriage." He should know by now the industry can't keep secrets.
Ashton Kutcher's Mistress Sara Leal: Sexual Affair Cost Me My Apartment And Job
Ashton Kutcher Flirting With Women Everywhere While Demi Moore Remains Distressed
Demi Moore Dating Someone After Ditching Cheating Ashton Kutcher But There's A Hitch In Her Plan