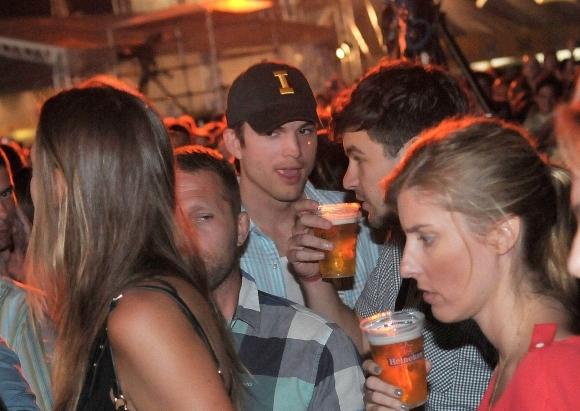 Ashton Kutcher kept eyeing up the same blonde at the Bruno Mars concert in Brazil the day after his wife Demi Moore was hospitalized for a drug overdose. He got close to the blonde after a short time.
Hollywood actor Ashton Kutcher, 33 was pictured partying again with another young blonde, as wife, Kabbalah actress, Demi Moore, 49, struggled out of the hospital, recovering from a drug overdose, which produced a serious seizure. Moore embarrassingly overdosed on youth oriented illegal drugs.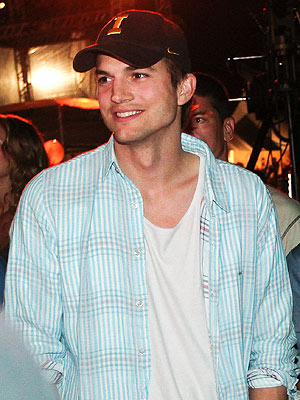 Ashton Kutcher looking horny and happy sad in Brazil, surrounded by some of the most beautiful women in the world
Moore has been ramping up her drug and alcohol abuse to superficially escape the realities regarding the destruction of her marriage and career. Her mind is gone and she has lost all perspective. She has more than most to be thankful for, yet is self-destructing over a foolish young man, who has thoroughly moved on from her. She was sick for days and he was too busy partying with young chicks to notice. That says it all.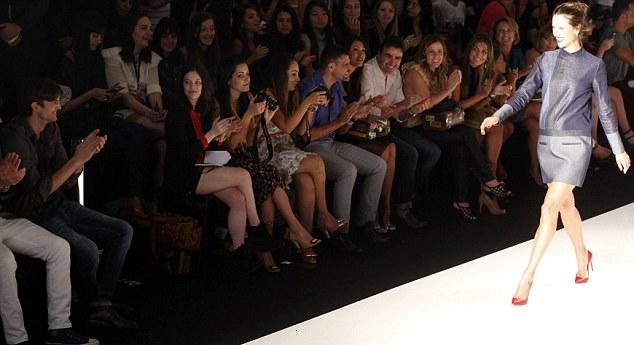 Ashton Kutcher staring at young models during fashion week in Brazil: Demi who?
Kutcher was videotaped partying at a Bruno Mars concert in Brasil with an unnamed woman he could not stop ogling and moving closer to, right in front of everyone. As he exited the concert, a photographer asked him about Moore's hospitalization and Kutcher didn't flinch, nor did he answer the question.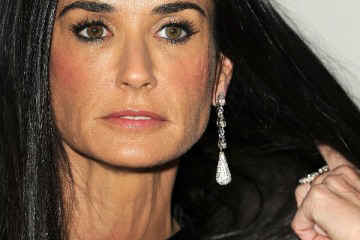 Demi Moore
The overdose has brought both Moore and Kutcher bad publicity. However, he doesn't seem to care. He could not get far enough away from her, as he partied out of the country for months straight, looking happier than he has in a very long time (not to encourage his bad behavior, but those two really were not a good match).
RELATED ARTICLES
Demi Moore Hospitalized For Substance Abuse Issue After Being Found In A Terrible, Unresponsive State
Ashton Kutcher Wants To Have Sex With Zooey Deschanel
Ashton Kutcher's Mistress Sara Leal: Sexual Affair Cost Me My Apartment And Job
Ashton Kutcher Flirting With Women Everywhere While Demi Moore Remains Distressed
Demi Moore Dating Someone After Ditching Cheating Ashton Kutcher But There's A Hitch In Her Plan
Sara Leal Says It's Not Her Fault Ashton Kutcher's Marriage Ended After Their Sexual Affair