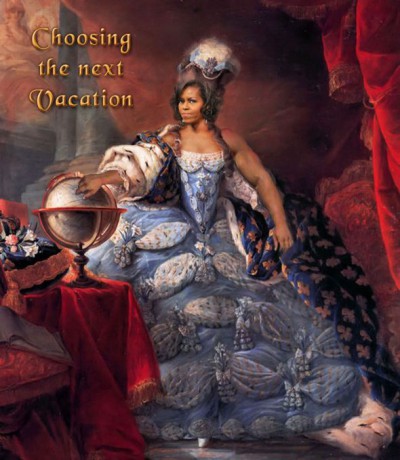 First Lady Michelle Obama being mocked
First Lady Michelle Obama is being portrayed as Marie Antoinette again, but this time in a very unflattering picture. Not only has an artist painted the First Lady's face on Antoinette's body, using a haughty looking pose and facial expression, he has grafted one of the most unattractive man arms on a woman to her body in the photo. Mrs. Obama's arms do not look like that. He gave her a brown version of Madonna's ugly arms. However, it was done for effect.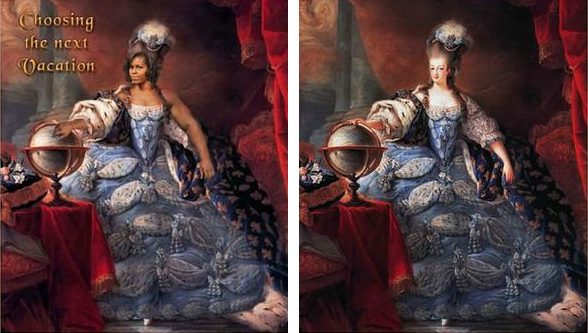 Michelle Obama (left) and Marie Antoinette (right)
Some, such as the Los Angeles Times, are crying racism at the photo that allegedly implies "uppity negro." However, the Judiciary Report disagrees. While the Judiciary Report does not believe Mrs. Obama behaves like an "uppity Negro" the site does see her as a very successful, pretty black woman and lawyer, but one not making the best PR moves.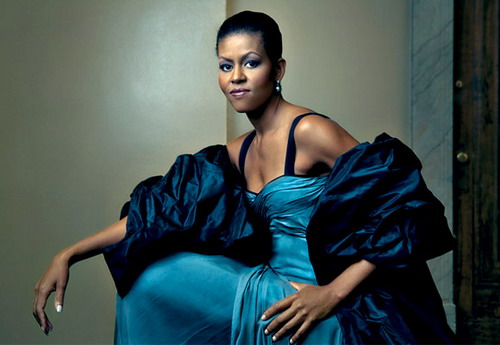 Michelle Obama
I do believe Mrs. Obama is not being wise in spending lavishly, taking luxury vacations and wearing very expensive designer clothes to a number of events during a terrible financial crisis. It can be construed as insensitive and is not politically savvy. It is not helping her husband President Obama. This would also apply if a Republican President's wife did so as well, in the same type of negative financial climate.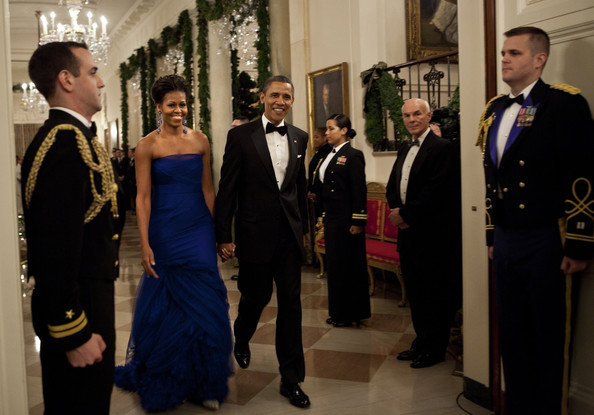 President Barack Obama and First Lady Michelle Obama
It's not a matter of public envy or jealousy. When people have lost their jobs and can't pay their mortgages anymore in big numbers, through no fault of their own, after having paid taxes into the system, they do not want to see elected leaders and their families spending government money on fancy trips or wearing very expensive designer duds. Because then, they will believe you are apart of the problem and not the solution. And once again, on a human level, it's insensitive. One has to be mindful of these things when in office (at least if one wants to stay there).
RELATED ARTICLES
Rush Limbaugh Says Miami NASCAR Crowd Booed First Lady Michelle Obama Because She Is An "Uppity" Black Woman
Mrs. Obama Being Criticized In The Press For Her Expensive Clothes During Hawaii Vacation
Mrs. Obama Slammed In The Press Again For Running Up The Tab On Her Family's $4,000,000 Hawaii Vacation
Mrs. Obama Being Criticized Online For Her Trip To Hawaii Due To The Price Tag