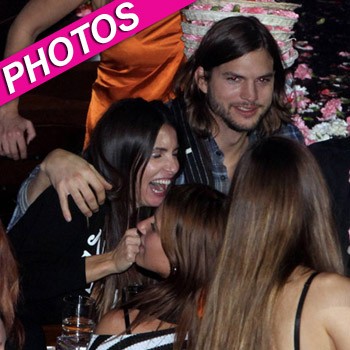 Ashton Kutcher and Lorene Scafaria
Hollywood actor, Ashton Kutcher, 33 is really destroying 49-year-old Demi Moore's dreams of them getting back together and calling off their pending divorce. He is not even acting like he misses her one iota. Not only did Kutcher spend Christmas with Hollywood screenwriter, Lorene Scafaria, who is 16-years her junior, he was seen embracing her again and giving her flowers.
Hardly behavior friends engage in, as it is more suited to people who have a romantic relationship. Not to mention, they have been sharing a place while he works abroad. Last week, Kutcher was seen holding hands and embracing her as well, while Demi spent Christmas with a new dog (Ashton was her old dog). You think Moore will go after Scafaria, like she did Sarah Leal.
Radar Online is stating Scarfaria looks like Moore, but other than the dark hair, the Judiciary Report disagrees. Blonde Sarah Leal and his other conquests during his marriage, did not look like Moore either. In short, Kutcher will sleep with anyone.
STORY SOURCE
Ashton Kutcher Parties With Demi Look-Alike Lorene Scafaria In Athens
Posted on Dec 31, 2011 @ 03:42PM - ...With his arm around Lorene, the Two and a Half Men star tossed flowers on his gorgeous companion. She laughed just as hard, as she put a flower on Ashton's head!