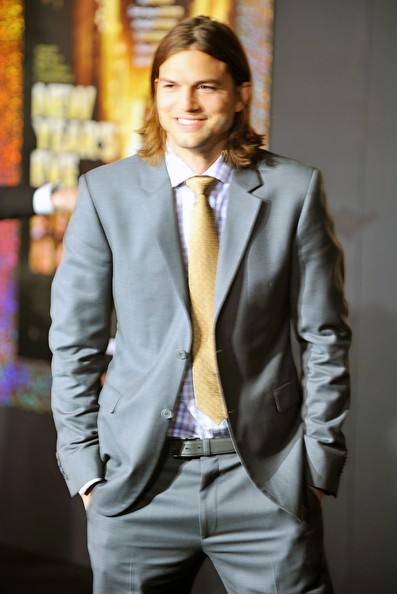 Ashton Kutcher
As reported on the site earlier today, horny toad and Kabbalah member Ashton Kutcher, 34, had a late night visitor yesterday, namely promiscuous so-called singer, Rihanna, who has slept with other industry men for career advancement, such as Jay-Z, Kanye West, The Dream, Drake and J Cole. She's also slept with industry women like Madonna for career favors as well, namely stolen songs and a movie.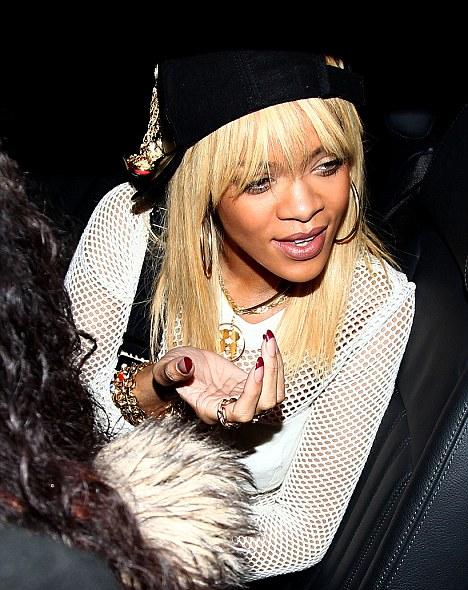 Rihanna
Rihanna, 24, is one of many women Kutcher has been having sex with since dumping his cougar wife, Demi Moore, 49, after six-years of marriage. For years the Judiciary Report credibly stated irresponsible Kutcher wanted out of the marriage, which made him feel trapped. Kutcher should not have married Moore, as he was not sincere in the way of a traditional marriage, nor was he in love with her. It was just a business deal for him.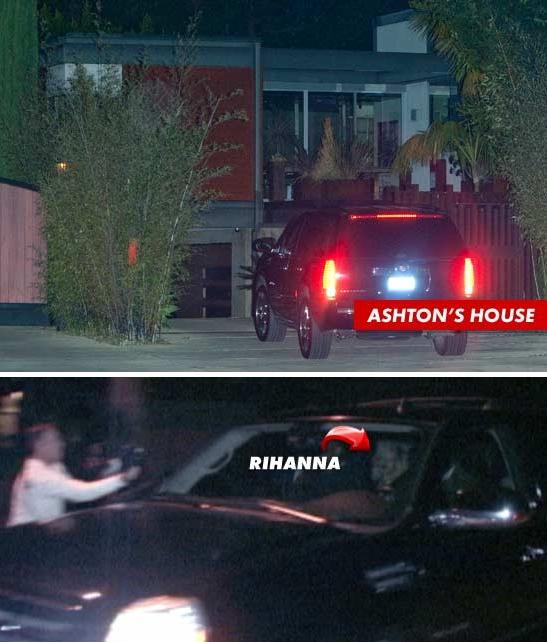 Rihanna going into Ashton Kutcher's house last night, staying from 12:00AM to 4:00AM (Photo Credit: TMZ)
It was a marriage of convenience for Kutcher, providing career advancement in exchange for promoting the lawbreaking Kabbalah cult, who are now under criminal investigation in three nations for corrupt financial dealings and theft, among other things. However, for Moore it was a chance to boost her profile with the tall, young actor, but he never loved her. Along the way, she became obsessed with Kutcher, even hiring private investigators to stalk him everywhere and report all his movements back to her.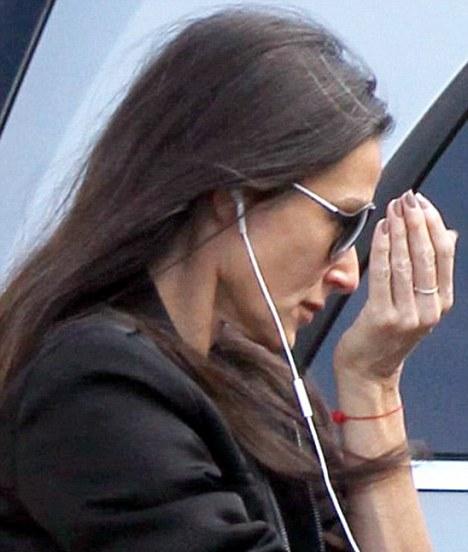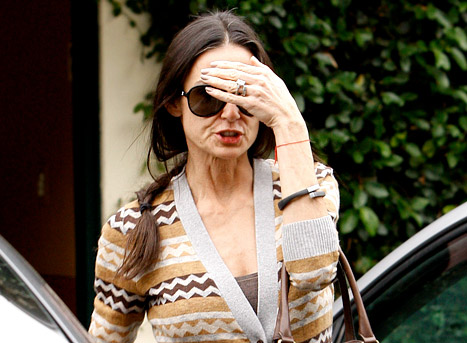 Demi Moore is embarrassed over Kutcher's brazen behavior
Moore became so depressed after Kutcher abandoned her for younger women, she ill-advisedly turned to drug use to forget and ended up overdosing, which required hospitalization and rehab. She was so embarrassed, she didn't even want to leave the house.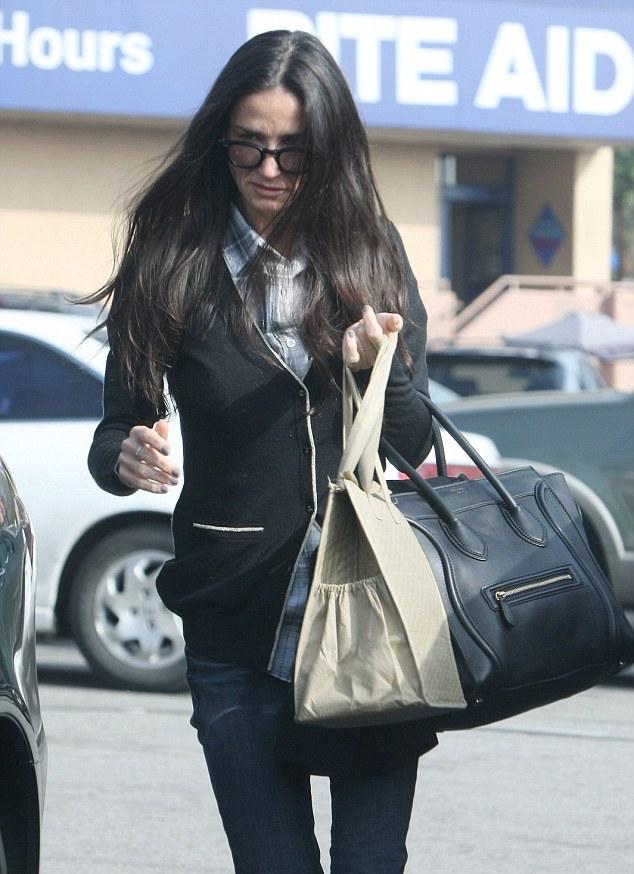 A bitter Demi Moore scowling in public last year during Kutcher's second sex scandal
Now comes another betrayal, as he is having sex with one of their fellow famous cult members, Rihanna, who will sleep with anyone if it helps her failing career. Rihanna better watch her back. Moore is known in Hollywood for being crazy and vindictive. She already has mental illness from Kabbalah, as does Rihanna. This is not a good combination. When will Kabbalah cult cougars like Demi Moore and Madonna learn, money can't buy love.
Moore photos of Kutcher going after other women: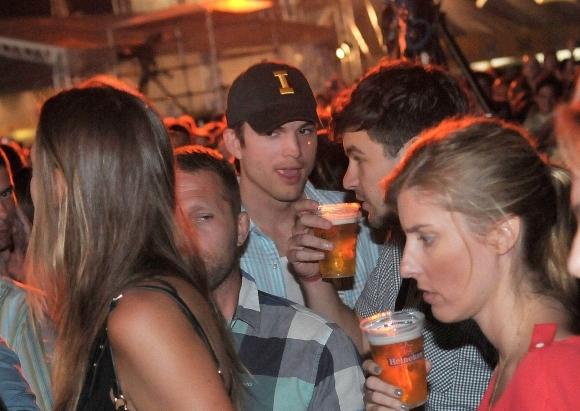 Ashton Kutcher moments before hitting on woman in photo during a trip to Brazil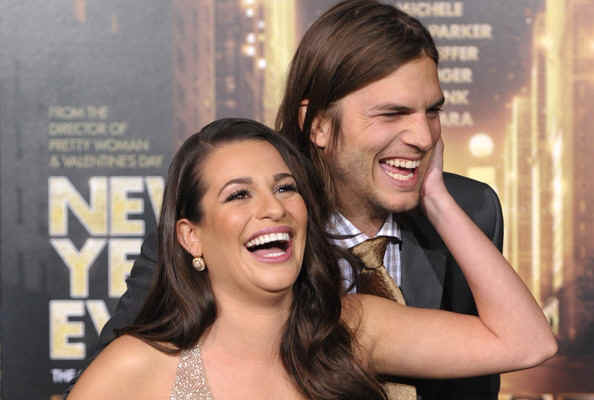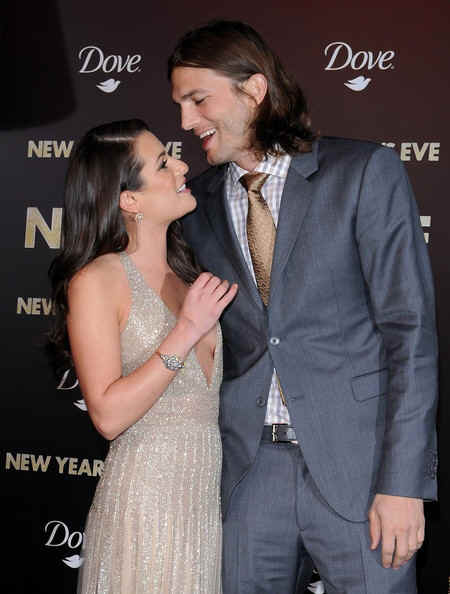 Ashton Kutcher flirting with co-star Lea Michele of his flopped film "New Years Eve"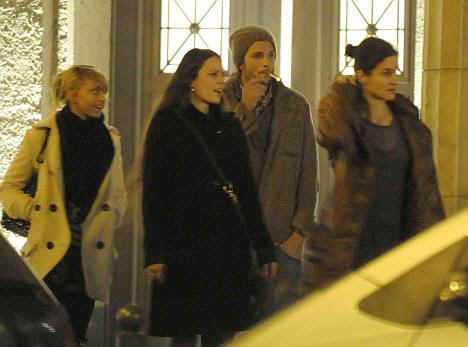 Ashton Kutcher leaving the club with three women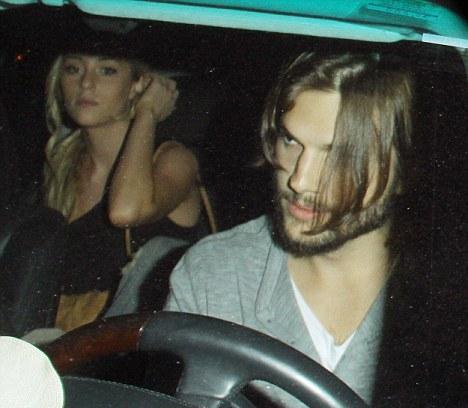 Ashton Kutcher leaving a hotel with another blonde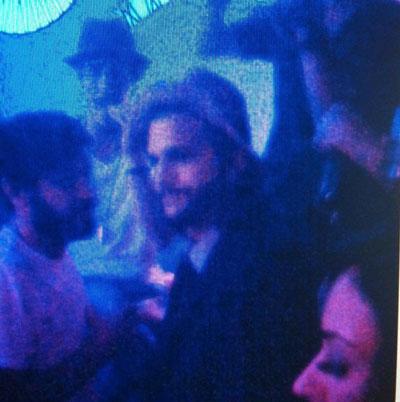 Ashton Kutcher at the bar where he met mistress Sara Leal and her friends
RELATED ARTICLES
Ashton Kutcher Has Been Spotted Canoodling With Another Woman
Ashton Kutcher Leaves Party With Three Women To Have An Orgy (Video)
Demi Moore Humiliated By How Ashton Kutcher Cheated And Moved On So Quickly
Ashton Kutcher's Mistress Sara Leal: Sexual Affair Cost Me My Apartment And Job
Ashton Kutcher Flirting With Women Everywhere While Demi Moore Remains Distressed
Rihanna Fans Are Threatening To Kill Chris Brown's Girlfriend Karrueche Tran
Cheating Chris Brown Is Punking Girlfriends Rihanna And Karrueche Tran
Rihanna Uses Mean Racial Slur In Reference To Chris Brown's Girlfriend Karrueche Tran (Photo)
Malawi To Pop Star Madonna Who Stole Financial Donations From Them: You Stink!
Madonna's Kabbalah Center Sends Racist Expletive Filled Email With The N-Word And Death Threats
Madonna's Connection To Phone Hacking And Wiretapping Scandal
Madonna Putting Out A Perfume Is Ironic Because...
Madonna And Kabbalah Close Their Corrupt Charity Due To Criminal Investigation
Rupert Murdoch Finally Admits His Company's Phone Hacking And Wiretapping Crimes
The Kabbalah Center Viciously Harassing And Threatening Jamaicans
Report: Kabbalah Cult Under Grand Jury Investigation
Madonna Fraudulent Charity For Africa Squanders Millions On Big Salaries & Luxury Items For Greedy Kabbalah Members
Senator Demands FBI Investigate Rupert Murdoch For Hacking Rival & Stealing Their Copyrights