The Material Moron Strikes Again With Another Musical Flop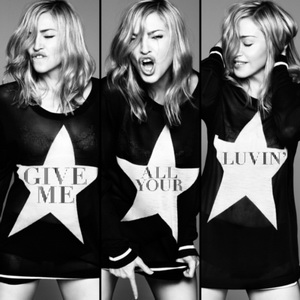 Boycott Madonna who has stolen copyrights/money from so many artists. Put her out of business by not buying anything by her.
"MDNA" the forthcoming album from copyright infringing, thieving pop tart, Madonna, is set to drop this month, but the first singles from the ill-fated disc, have flopped all around the world. People just are not into it. Even mainstream outlets pointed out this undeniable fact.
Madonna cannot sing, dance or act and has made a career out of shock value and criminal copyright infringement. She illegally took from others to create a fraudulent career the public has been seeing for what it is - a farce. It's time for her to retire, as the public has moved on from her madness.
RELATED ARTICLES
Madonna's Kabbalah Center Sends Racist Expletive Filled Email With The N-Word And Death Threats
Madonna Looks Like Jessica Rabbit's Mother On The Cover Of Girls Gone Wild
Madonna's New Single "Give Me All Your Luvin" Flops And Crashes Out Of The Charts Early
Greedy Madonna Thinks Her Concert Tickets Are Worth $300 During The Financial Crisis
Madonna's Connection To Phone Hacking And Wiretapping Scandal
The Daily Mail Is Actively Engaging In Hacking, Phone Hacking And Wiretapping
The FBI Corruptly Granted "Sovereign Immunity" In The Aisha v. FBI Case
Madonna Putting Out A Perfume Is Ironic Because...
Madonna Has Been Getting More Plastic Surgery In Trying For A Comeback After Failed Albums
Madonna And Kabbalah Close Their Corrupt Charity Due To Criminal Investigation
Rupert Murdoch Finally Admits His Company's Phone Hacking And Wiretapping Crimes
The Kabbalah Center Viciously Harassing And Threatening Jamaicans
Report: Kabbalah Cult Under Grand Jury Investigation
Madonna Fraudulent Charity For Africa Squanders Millions On Big Salaries & Luxury Items For Greedy Kabbalah Members
Senator Demands FBI Investigate Rupert Murdoch For Hacking Rival & Stealing Their Copyrights
Fox News Has A Secret Phone Hacking Department In The Building Says Former Employee