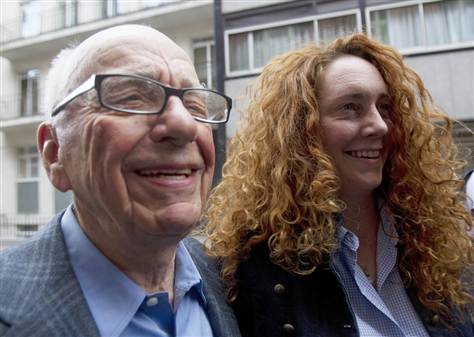 Rupert Murdoch and Rebekah Brooks
Previously the Judiciary Report stated Rupert Murdoch's News Corp is engaging in conduct that is a threat to national security (See: April 28. 2011 article Rupert Murdoch Compromised National Security With Illegal Phone Hacking And Wiretapping and the April 12. 2011 article Report: Rupert Murdoch Blackmailed The British Prime Minister).
This week it was announced, the Metropolitan Police, who twice arrested Murdoch's top newspaper executive, Rebekah Brooks, interrogated her recently regarding bribing a high ranking Ministry of Defence government official, seeking scoops for the newspapers.
Coupled with all the illegal spying the Murdochs ordered be done on several British Prime Ministers, in addition to heads of state in other countries, such as America, Australia, Canada and Jamaica, it is undeniable News Corp is a menace that poses a threat to national security in several sovereign nations.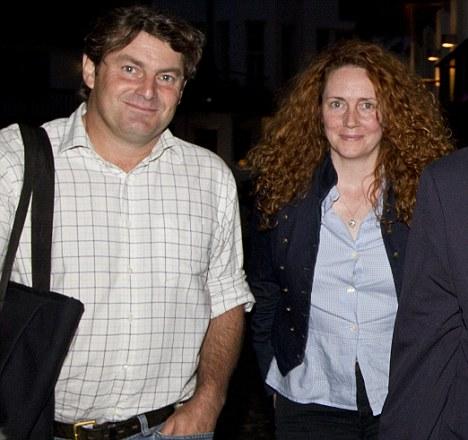 Rebekah Brooks and her husband Charlie Brooks
It's one thing when a journalist is given information regarding serious issues of misconduct by government officials, as seen in the Wikileaks scandal but to engage in bribing government officials to print national secrets in the paper for profit is wholly wrong.
[Article background: this is another in the series of phone hacking articles the Judiciary Report has published, regarding a scandal I broke first in October 2005, via a police complaint I filed with the Metropolitan Police in London, England. 30 people have been arrested by the Metropolitan Police since the time I filed the complaint. However, the Murdochs and other key conspirators remain free and the FBI has not arrested anyone, though the crimes began and continue in News Corp's New York headquarters].
RELATED ARTICLES
Rupert Murdoch Compromised National Security With Illegal Phone Hacking And Wiretapping
Has Rupert Murdoch Ever Spied On A World Government For Another
Politicians Take Obama To Task Over Granting Sony Access To National Secrets
How Can Rebekah Brooks Be The Daughter News Corp's Rupert Murdoch Never Had
Former News Corp Employee Rebekah Brooks Accused Of Trying To Destroy Evidence Police Found
Privacy Invader Rebekah Brooks Resigns From Rupert Murdoch's News Company
Rebekah Brooks Arrested And The Metropolitan Police Chief Resigns
News Corp's Rebekah Brooks Lied Under Oath
Rupert Murdoch Is A Liar And A Coward To Let His Employees Take The Fall For Him
Renewed Outrage In Britain Over Rupert Murdoch's News Corp Phone Hacking Mom Of Murdered Missing Girl
STORY SOURCE
Brooks quizzed over MOD payments
UKPA) – 1 hour ago - Former News International chief executive Rebekah Brooks has been questioned by police about payments to Ministry of Defence officials. She is understood to have been asked about evidence handed over by News Corporation's Management and Standards Committee.
Mrs Brooks' relations with top police officers and politicians have been called into question in recent weeks after it emerged that she "fostered" a police horse when it retired from active service in 2008. She paid food and vet bills until the animal, called Raisa, was rehoused with a police officer in 2010, months before fresh investigations began into illegal activities at the News of the World.