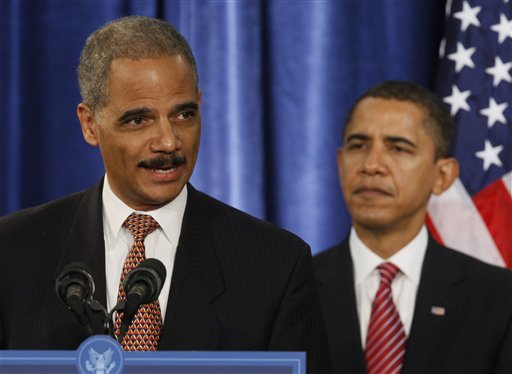 Attorney General Eric Holder and President Barack Obama
Congressional resistance against President Barack Obama's Attorney General, Eric Holder, is building. Over 100 senators are demanding the resignation of Holder, who has caused one scandal after another in the Obama Administration. His worst scandal to date is the "Fast And Furious" debacle, where Holder was caught red-handed sending illegal guns into Mexico, which were used by the drug cartels to kill hundreds of innocent people and two U.S. Border Patrol Agents.
STORY SOURCE
More than 100 Congressmen Demand AG Eric Holder's Resignation
Mar-08-2012 01:11 - (WASHINGTON DC) - A handful of media groups are reporting over 100 members of Congress calling for the resignation of U.S. Attorney General Eric Holder over his deadly and bungled ATF operation to smuggle deadly weapons to drug cartels in Mexico, as the country struggles through the midst of a years-long battle to gain control of the a lucrative drug trade.
Those guns, more than 1700 documented smuggled weapons, were used to murder two U.S. federal agents, Border Patrol Agent Brian Terry & Special Agent Jaime Zapata from ICE, a prominent Mexican attorney, and hundreds, realistically, probably thousands of other murders in Mexico were committed with these weapons, and without question still do.
The ATF didn't even fix tracking devices to these weapons, not a single American I have ever heard of understands or approves of what took place. For the record, honorable agents from ATF are who finally shoved this matter into the light, in spite of the fact that at least one other American had tried. The ATF agents who blew the whistle paid the price too, almost all faced serious, overt retaliation from the agency.
RELATED ARTICLES
President Obama's Attorney General Eric Holder Connected To Banks Responsible For The Mortgage Crisis
Eric Holder A Massive Liability To Obama In The 2012 Election
Obama Being Accused Of Using Attorney General Eric Holder To Rig The 2012 Presidential Election
91 Members Of Congress Demand The Resignation Of Obama's Attorney General Eric Holder
73 Members Of Congress Sign A Vote Of No Confidence Against Obama's Attorney General Eric Holder Due To 'Fast And Furious' Deaths