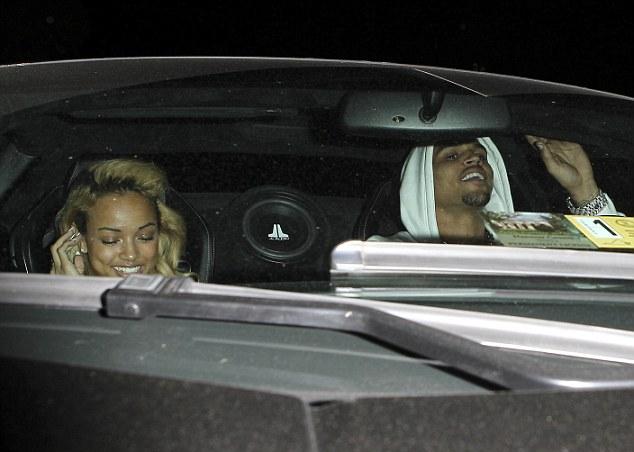 Chris Brown and one of his girlfriends Karrueche Tran. Brown to Rihanna: take that!
Chris Brown's plan of making faux singer girlfriend Rihanna as jealous as possible is working. This week, Brown, who is a convicted felon, stemming from a 2009 incident where he beat Rihanna bloody is his Lamborghini after a Grammy party, took Tran out to a club in Los Angeles. When they exited the club, Brown made a point of flaunting a smiling Tran in front of the paparazzi, before driving her around in his Lamborghini, whose finish has been desecrated.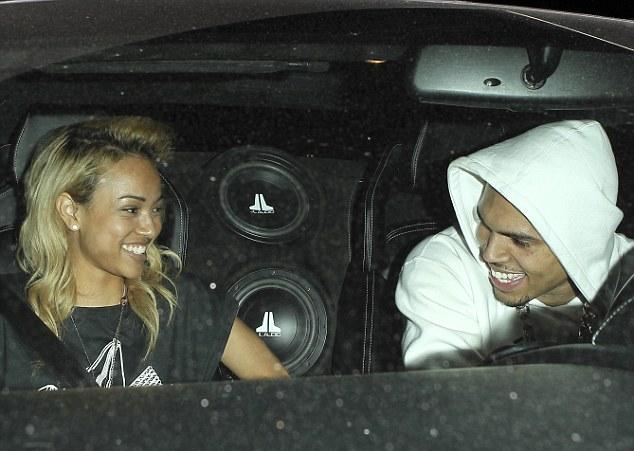 Brown and Tran rubbing it in Rihanna's fivehead face (Photo Credit: Splash)
The photos of Tran and Brown in the vehicle, where reminiscent of him and Rihanna in the same motor car make three years earlier. This will get under Rihanna's skin. She's already been suffering from diarrhea on Twitter, issuing disgraceful, low class racial slurs and insults against Tran. This one is going to make her blood boil, but she is unwise for pinning after a boyfriend that beat her so badly and continues to have outbursts against women.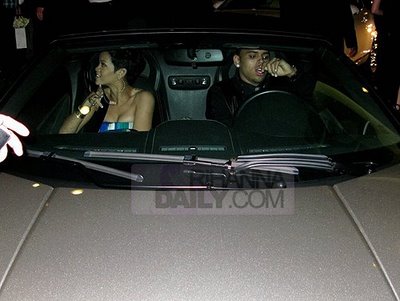 Chris Brown and Rihanna (2009)
For further reference see Brown becoming enraged with a female cancer survivor at the show "Good Morning America" for asking him pertinent questions he did not wish to answer, prompting him to irrationally throw a chair through the window of the studio and onto the busy street, where it could have injured someone. Also see Brown angrily cursing at and snatching a $500 iPhone from an innocent bystander, who simply tried to lawfully take his picture on a public street.
Rihanna Stole New Video From Photographer
Rihanna Sued Again For Stealing
Rihanna And Chris Brown's Dueling Interviews
Unwise Rihanna Slams Blogs, Bloggers And Readers
85% Of Access Hollywood Viewers Vote That Rihanna Did Not Deserve Esquire's Sexiest Woman Alive Title
Rihanna Embarrasses Herself On Twitter By Falsely Claiming Concert Is Sold Out