A few months ago, News Corp CEO, Rupert Murdoch, told his mistress and top female newspaper executive, Rebekah Brooks, to take a year off and travel the world until the phone hacking scandal blew over and he could offer her a new post. Since that time, Brooks has been arrested twice in the massive scandal - once for committing crimes and a second time for breaking the law again in trying to cover them up. As the phrase goes, what a tangled web we weave when first we practice to deceive.
The Metropolitan Police raided Brooks $10,000,000 Cotswolds mansion in England, early yesterday morning and arrested her again. Not only did the police come after the lawless executive, they searched her home and arrested her husband Charlie Brooks as well. The arrests occurred at the start of their favorite time of year - the Cheltenham Racing Festival. The police are angry for all the trouble the case has caused them. Hence the day they chose.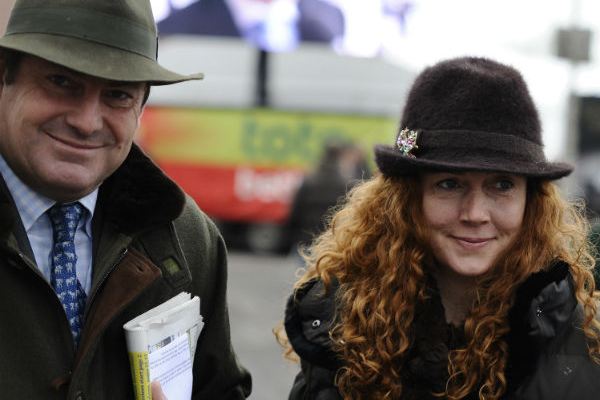 Charlie Brooks and Rebekah Brooks
If you remember correctly, several months ago, on July 20, 2011, the Judiciary Report published an article entitled "Former News Corp Employee Rebekah Brooks Accused Of Trying To Destroy Evidence Police Found." Reports at the time indicated, Charlie Brooks tried to help his wife dispose of incriminating evidence by tossing her mobile phones and laptops in a bag and into a rubbish bin outside a shopping district near their Chelsea Piers condo in London, England. The Metropolitan Police were given the bag by a security guard, who was told to fish it out of the bin.
The Judiciary wrote at the time, "It is to be expected that the suspects in the case are being wiretapped and followed by the police, with all their personal and business data investigated for clues to criminal activity." Brooks, her husband and four other journalists were arrested yesterday for "perverting the course of justice" which in America is known as "obstruction of justice." It is the illegal act of trying to cover or destroy evidence or facts in a criminal case.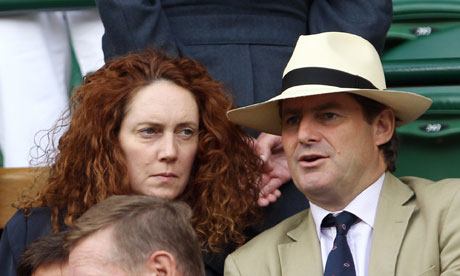 I must say, the Brooks are amateurs at disposing evidence. I've read court files and articles about hackers being arrested and you would not believe the extremes they go to in order to nuke evidence (hard drives, phones, discs) - that is, those the police don't catch off guard during early morning raids on a day they are not expecting it. Did you know that even after you delete items from or reformat a computer hard drive, a tech specialist can run it back and extract what was on it before. I've seen it done.
In closing, Brooks certainly is not the mastermind behind all these crimes, the Murdoch family and the cult Kabbalah are, but she is very guilty of doing everything from participating in phone hacking and computer hacking to bribing police for information, which led to the arrest of officers this year. Brooks made use of illegally and regularly compiled reports the Murdochs' team of corrupt private investigators and hackers unlawfully procured through criminal means such as computer hacking, phone hacking, stalking and blagging.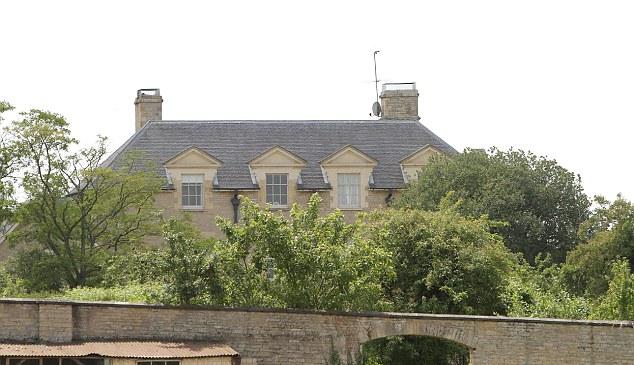 The Brooks home in Oxfordshire countryside in England (Photo Credit: SWNS)
Many victims in the case, especially in London, are not going to be crying for Brooks over getting herself arrested again, as she has been very in your face, abrasive and arrogant throughout her career at News International/News Corp and to people she violated, due to the Murdochs egging her on. Brooks has made many enemies from tauntingly rubbing people's faces in News Corp's criminal invasion of privacy.
Put it this way, there are victims of the scandal in London proverbially peeing themselves laughing at her arrest. She did business in the ruthless style of Murdoch and it is costing her plenty. Her name is gone and so is her career. Her freedom is also at stake. Whether you guys at News International want to accept it or not, it's time you start turning the Murdochs in, because they have left you to take the fall for them.
[Article background: this is another in the series of phone hacking articles the Judiciary Report has published, regarding a scandal I broke first in October 2005, via a police complaint I filed with the Metropolitan Police in London, England. 30 people have been arrested by the Metropolitan Police since the time I filed the complaint. However, the Murdochs and other key conspirators remain free and the FBI has not arrested anyone, though the crimes began and continue in News Corp's New York headquarters].
STORY SOURCE
Rebekah Brooks and husband arrested in new twist in phone-hacking inquiry
RELATED ARTICLES
Madonna's Kabbalah Center Sends Racist Expletive Filled Email With The N-Word And Death Threats
Madonna Looks Like Jessica Rabbit's Mother On The Cover Of Girls Gone Wild
Madonna's New Single "Give Me All Your Luvin" Flops And Crashes Out Of The Charts Early
Greedy Madonna Thinks Her Concert Tickets Are Worth $300 During The Financial Crisis
Madonna's Connection To Phone Hacking And Wiretapping Scandal
The Daily Mail Is Actively Engaging In Hacking, Phone Hacking And Wiretapping
The FBI Corruptly Granted "Sovereign Immunity" In The Aisha v. FBI Case
Madonna Putting Out A Perfume Is Ironic Because...
Madonna Has Been Getting More Plastic Surgery In Trying For A Comeback After Failed Albums
Madonna And Kabbalah Close Their Corrupt Charity Due To Criminal Investigation
Rupert Murdoch Finally Admits His Company's Phone Hacking And Wiretapping Crimes
The Kabbalah Center Viciously Harassing And Threatening Jamaicans
Report: Kabbalah Cult Under Grand Jury Investigation
Madonna Fraudulent Charity For Africa Squanders Millions On Big Salaries & Luxury Items For Greedy Kabbalah Members
Senator Demands FBI Investigate Rupert Murdoch For Hacking Rival & Stealing Their Copyrights
Fox News Has A Secret Phone Hacking Department In The Building Says Former Employee