A Person She Struggled With For Years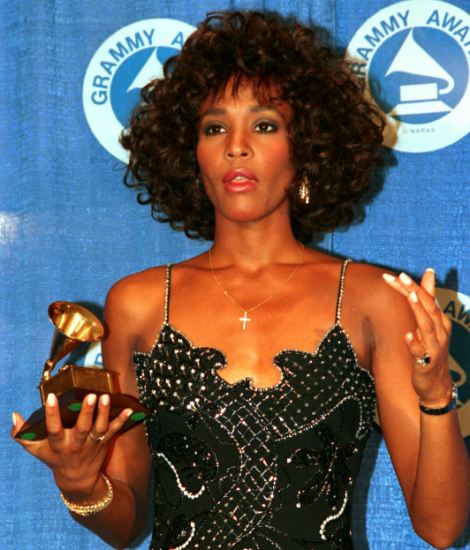 Whitney Houston
Anyone that tells you Hollywood is a wonderful place is a liar. Those jerks will drive you to drinking or worse if you are not careful. But this is the world Whitney Houston lived in - an industry full of leeches and parasites making undue demands on people and always looking for someone to rip-off and exploit. The government doesn't really regulate Hollywood, so they basically get away with murder out there. Drugs and alcohol abound in tinsel town. Someone's always offering it.
Drugs transforms people into things they do not want to be, but they have an addiction that has changed the landscape of their brain, causing them to crave something that is very detrimental and potentially deadly. So many who use drugs, become a shell of their former selves, physically, mentally and emotionally. That takes a toll on the psyche as well.
A former co-worker of my mom's once worked with her at a school where they taught mentally disabled people in a very rewarding job. Over ten years ago, he also took on a part time job in his spare time to earn extra money to buy a home. His part time job was at Williams Island in Aventura, a suburb of Miami, Florida. Whitney Houston bought a condo on Williams Island in one of the buildings.
One day he saw a disheveled woman, who was out of it, behaving erratically at the pool side, making a commotion. He thought she was a danger to herself and the other guests. He thought the woman was "a vagrant" as he put it. So, he called the police. When they arrived, they looked into it and to their surprise and his, found out the woman was Whitney Houston, a resident of the building. The heavy drug and alcohol use had so taken a toll on her, no one recognized her and she was behaving so erratically as though she was high, they thought she would end up hurting herself. No, he was not fired, but everyone was shocked it was her.
My mother and I were reminded of the incident, when we saw reports on television, regarding Houston behaving erratically last week in the Beverly Hilton ballroom and by the pool of the hotel as well. This has been going on for years, due to Houston's addiction issues. But she had too much drug negativity in her life and whether she realized it or not, it was a problem for her.
My friends in Florida and Georgia that worked at and with labels and those that were reps at music industry conventions said she was okay before she got married, but there was a marked difference in her appearance, sobriety and work ethic when she hooked up with husband Bobby Brown. Once again, sorry Bobby, but the problems in the area of substance abuse intensified for Houston when you two got together, in an issue you've reportedly had since age 15.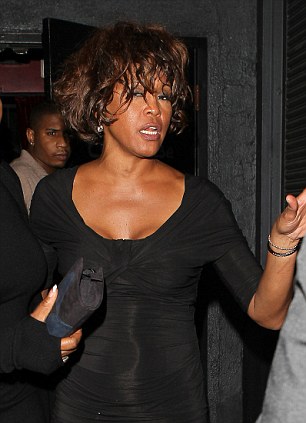 Whitney Houston inebriated leaving the club two days before her death
This beautiful, bright and talented woman, was reduced to a shell of her former self that even those who admired her, did not recognize her anymore, due to what drugs and alcohol had done to her. Then, there's what it did to her voice. There are singers whose voices maintain their strength and beauty well into their 80s. However, when drugs and alcohol enter the picture, problems will arise.
Houston could not have been happy with the changes in her voice. No singer could. She probably blamed herself, as her voice is something she is so identified with and by. It must have hurt Houston as well, when being interviewed by Oprah Winfrey, she was informed some fans stated online that she had destroyed "a national treasure", her voice, with drugs and alcohol. Her brows raised in sad surprise on the show.
Failed romantic relationships, as well as financial troubles had to have taken their toll on Houston. Her last days of wild partying and falling out of clubs inebriated did not seem to be happy ones and something people thought was in her past. She hadn't been seen like that in a while. I think Hollywood brought the worst out of her, as it does to many.
I am reminded of an interview singer Ginuwine did with Sister2Sister magazine, where he states it is a danger for him leaving the East Coast where he lives to go to Los Angeles, as drugs are everywhere in Hollywood and provide a great temptation. What happened to Houston last week is another reminder of this fact. Sometimes, one of the best things you can do is avoid places that trigger cravings associated with your addiction.
Houston had better friends than those that surrounded her in her last days. People of faith such as Shirley Caesar and Sister Perri (Pebbles). I believe had she spent more time with people like them, things could have been better. But wanting to get back into the swing of things in Hollywood and meet the new writing and production people in town, to restart her career, cost Houston so much.
I can't help but think how much better Houston's life would have been had drugs not entered the picture. She did so much in her 48-years, just imagine how much more she could have accomplished, had she not been incapacitated for several days at a time in her bedroom, struggling with addiction and losing her sobriety. She was naturally beautiful, talented and smart. She really did "almost have it all."
RELATED ARTICLES
Whitney Houston Is The Latest Hollywood Star To Die Under Tragic Circumstances
Reports Indicate Whitney Houston Has Lost All Of Her Money And Is Asking For Donations