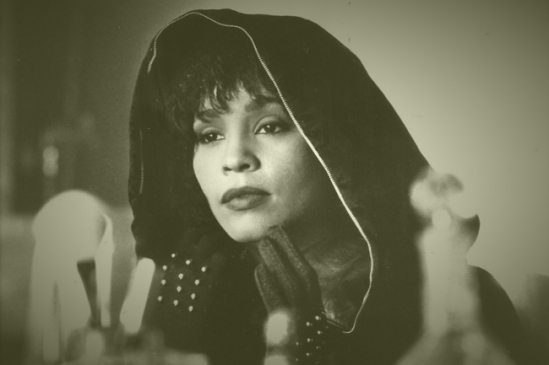 Whitney Houston in the movie "The Bodyguard"
Each year, Sony Music executive, Clive Davis, holds a Grammy party the weekend of the awards show. Davis is the man that discovered the late singer, Whitney Houston. There was a lot of controversy over this year's Grammy Party continuing, while Whitney Houston's lifeless body lay upstairs in the same hotel, being processed as apart of a crime scene. People like Chaka Khan publicly spoke out against it, as people were laughing, drinking and dancing, while the singer's dead body was present in the building.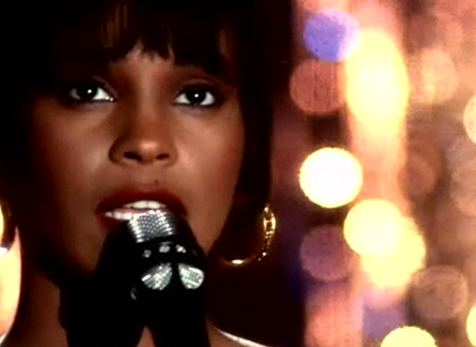 Whitney Houston singing in the movie "The Bodyguard"
It reminded me of a scene from Houston's most famous film "The Bodyguard." In the movie, Houston's bodyguard (Kevin Costner) had shot and killed a crazy, disgruntled man that was stalking her at an awards show and during the gunfire, was mortally wounded as well. In a macabre move symbolic of Hollywood, her cutthroat, unscrupulous manager, picked up the blood soaked card, containing her character's name as the winner of a prestigious award and put it in his pocket to celebrate the win, because that's all that mattered in his eyes.
RELATED ARTICLES
National Enquirer Publishes Whitney Houston Coffin And Death Photos
Pressure On Bobbi Kristina Brown To Look, Sing And Act Like Her Late Mother Whitney Houston
Will Bobbi Kristina Brown's Drug Use Spiral Out Of Control With The Death Of Her Mother
Whitney Houston's Family Needs To Hire A Law Firm And Accounting Agency For A Forensic Audit Of Her Finances
Singer Whitney Houston Given A Very Touching Funeral In New Jersey
Whitney Houston's Ex-Husband Bobby Brown Left Her Funeral After A Dispute With Security
Bobby Brown's Tribute To Whitney Houston Last Night Shows There's A Problem There
Bobby Brown Reportedly Not Wanted At Whitney Houston's Funeral Or To See His Daughter
Drugs And Alcohol Transformed Whitney Houston Into A Different Person
Whitney Houston Is The Latest Hollywood Star To Die Under Tragic Circumstances
Reports Indicate Whitney Houston Has Lost All Of Her Money And Is Asking For Donations
Whitney Houston Back In Rehab As Daughter Is Arrested
Whitney Houston's Daughter Betrayed By Ex-Boyfriend That Sold Cocaine Photos