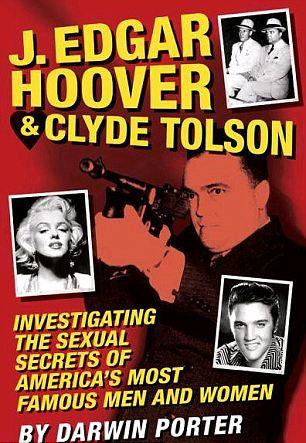 Former FBI Director, J. Edgar Hoover, has been exposed in a new book entitled "J. Edgar Hoover and Clyde Tolson: Investigating the Sexual Secrets of America's Most Famous Men and Women" by Darwin Porter. The book states Hoover had secret pornographic films and nude photos of young stars such as Frank Sinatra. It was considered the biggest pornographic film collection at the time, which Hoover watched for sexual gratification.
Hoover claimed he was a heterosexual, but never married and lived his entire life with male FBI agent Clyde Tolson. It was widely rumored they were homosexuals. The book states Hoover also had photos of naked men with large penises hanging on his bathroom walls. Straight men do not do any of those things. He was also caught wearing a pink dress, in a story that has lived in infamy.
Hoover was a mentally ill, sexually dysfunctional, perverted voyeur that spent his time secretly spying on people for sexual kicks. The man was an abomination with no respect for the law or privacy. Sadly, the FBI of today are no better, as they spy on people in their homes via audio and visual means such as phone hacking, wiretapping, hidden cameras, infrared and secretly turning on the webcam on people's computers.
RELATED ARTICLES
Senator Demands FBI Investigate Rupert Murdoch For Hacking Rival & Stealing Their Copyrights
The FBI Raids Wrong House Holding Woman And Daughter At Gunpoint After Chainsawing Off Door
CBS News Confirms That FBI Director Lied To Congress About Carrier IQ Spying
Rupert Murdoch Is Being Investigated By The Government For Using 'Mafia Tactics' On Rivals
Rupert Murdoch's News Corp Is Under Investigation For Computer Hacking And Corporate Theft
Rupert Murdoch's News Corp Spying On People With Drones
Rupert Murdoch Uses Slur In Reference To Black People
Police Widen Rupert Murdoch News Corp Criminal Probe To Include Computer Hacking
Judge Orders One Of Rupert Murdoch Hackers To Disclose All Evidence
Rupert Murdoch Executive Admitted To Bribing The Metropolitan Police (Video)
Wall Street Protestors March Outside The Home Of Greedy CEOs Such As News Corp's Rupert Murdoch
James Murdoch To Be Recalled To The British Parliament In November 2011 Over Lying In Previous Hearing
Rupert Murdoch Defames Australia's Prime Minister Then Retracts It After Legal Threat