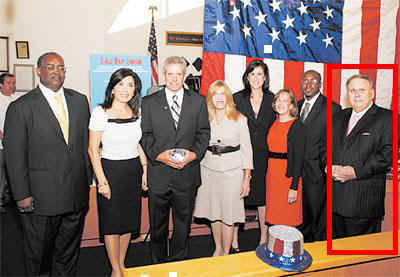 Judge Sheldon "Shelly" Schwartz stands to the far right and is highlighted in red
Judge Sheldon Schwartz, who presides at the Miami Dade Justice Center, located at 15555 Biscayne Boulevard in Miami, Florida, is possibly one of the worst, rudest judges in the United States, screaming at litigants at the top of his lungs, without provocation. The ill-mannered, crude, loud and verbally abusive judge is also incompetent.
He's becoming known in Miami legal circles for this inappropriate, toxic behavior from the bench that is disgracing the judiciary. The Judicial Cannons expressly forbids such conduct. Lawyers and litigants have so many negative things to say about this appalling judge that something needs to be done to remove him. He is going to cause a legal catastrophe with his misconduct.
He does not read case files properly, opting to thumb through them in the presence of litigants during hearings, while loudly barking at taxpayers about things he previously perused, but now can't find in the files. He is the definition of unprepared and ungracious. Senility is cruel and so is he.
So cruel he evicted a disabled family of sick people at Christmas, some elderly, when the national press had announced a moratorium on evictions and foreclosures for the 2011 holiday season, which was featured in newspapers and television news reports across the nation. It's hard to fathom a judge not reading newspapers or watching the news, but Schwartz gets off on being mean and evil and thus disregarded it.
He was very vile to the family of disabled people in court, barking at them like a big bully, repeatedly refusing them the opportunity to speak in court. He placed such vague, incomplete and scribbled rulings in the court file, that it allowed the slumlord, mortgage fraud committing plaintiff to violate what was said in court, much to the confusion of the disabled family, who had paid significant equity into the property and was blindsided by the maneuver.
This misconduct greatly inconvenienced and embarrassed the sheriff's office and court clerks, who later scrambled to ascertain the correct date, so as not to further violate the family's rights in enforcing a wrongly issued eviction order earlier than what was previously stated in court. The slumlord wanted the place as soon as possible to paint over dangerous levels of mold and do a patch job on the leaking roof, terrible plumbing and bad electrical, to hide the city code violations from the local government.

Jason Pensky of Pensky & Kim
However, Schwartz was away on Christmas vacation and could have cared less regarding what his corruption and cruelty had caused the disabled family, whose Christmas eve and Christmas day dinner was cancelled, due to his actions. This was done in tandem with a slumlord plaintiff, backed up and executed by the dubious law firm of Pensky & Kim (Jason Pensky and Philip Kim). If you are ever in need of a lawyer, beware of that corrupt law firm, as they use underhanded, unlawful tactics that will end up getting you sued and or arrested.