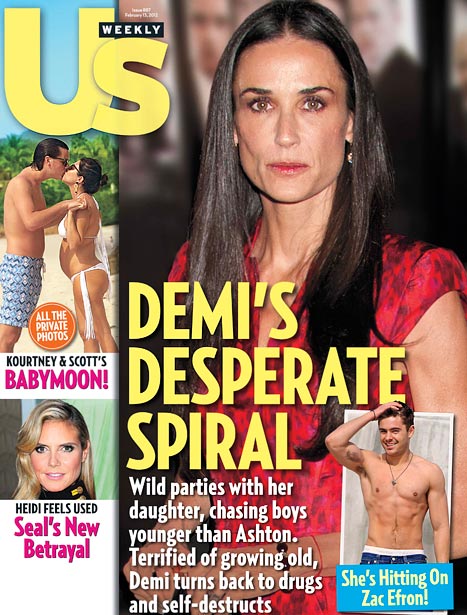 Kabalah actress and cougar, Demi Moore, 49, has been outed by U.S. Weekly magazine, as having stalked 25-year-old actor, Zac Efron, in a frantic bid to prove herself sexy, after her husband, Ashton Kutcher, 33, dumped her for younger women. Kabbalah folks sure love stalking people. It is being stated, Moore stalked Efron to a party and tried to have sex with him, but it did not happen. Furthermore, when a man or woman dates a younger person, it does not mean the individual is sincere, as some are social climbers, while others seek career and money favors.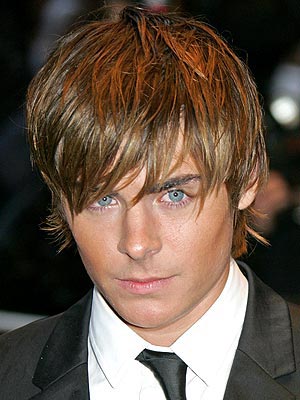 Zac Efron: is she serious
It is sad that Moore views her self-worth solely in relation to how she looks, rather than who she is as a human being. She should spend more time working on what's inside her heart and mind, rather than obsessing over the frustrating, futile quest she is on to be 21, when she is almost 50. She's had that time in her life already. By all means, do one's best to look great at any age, but one should not let that vanity consume one to the point it becomes self-destructive and depressing. Aging is the nature of life.
STORY SOURCE
Cover Story: "Desperate" Demi Moore "Tracked Down" Zac Efron
Celebrity News February 1, 2012 AT 10:30AM By UsWeekly Staff - It was the culmination of months of self-destructive partying (and drug use) for the newly single star, struggling to make sense of things as she nears 50 without husband Ashton Kutcher, from whom she split late last year.
"She's been really down, and she's surrounding herself with young people to make her feel better," an insider tells Us of Moore, who's been obsessed for years with staying young and thin....A wired, gaunt Moore "tracked down" the High School Musical star at a party in L.A.'s Venice neighborhood, an insider tells Us. "She seemed out of her mind at this party."