TMZ captured footage of 24-year-old Christal Spann telling police that Chris Brown snatched her $500 iPhone, because she lawfully took a photo of him on the sidewalk, after the womanbeating singer left the Cameo night club on Miami Beach, with rapper Tyga.
Spann's two friends back up her story, as they witnessed the incident as well. For a working class person to lose a $500 phone is a big deal and upsetting. For some an iPhone is a week's wages. If this story is true, he should be financially and legally charged, compelled by a court of law to pay fines and restitution.
I have seen copyright infringing Chris Brown's bizarre behavior with my own eyes on two separate occasions, when the boy stalked me and it distressed me (Chris Brown Showed Up In My Neighborhood and Chris Brown Showed Up In My Neighborhood Again). What was he trying to prove. He is a convicted felon and violated his probation in doing so.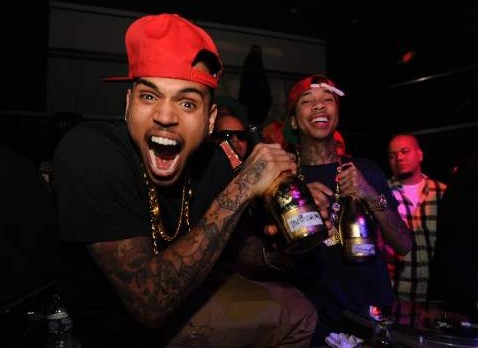 Chris Brown looking crazy in the club
I was angry that he had the nerve to do that and twice and right before my birthday celebration, as stalking is defined as mental illness. So is kleptomania. This dude steals songs and iPhones. He behaves like a spoiled star, who does not like hearing the word no or getting his own way and does whatever he pleases as a result, no matter the damage to others.
He is very good at distressing women as well, which is misogynistic. He has a problem and its time people stop making excuses for him, defending his socially schizophrenic and inappropriate behavior, which is the end result of joining Kabbalah and working with Madonna, before he ends up spontaneously lashing out and killing somebody for rejecting or telling him something he does not want to hear.
He is a womanbeater, stalker and thief. It's time he faces that and changes his ways. You cannot say you have changed and go around exhibiting such strange and upsetting behavior towards women, especially those you don't even know. There's a problem there.
RELATED ARTICLES
Photographer's Theft Lawsuit Against Rihanna Will Proceed
Rihanna Stole New Video From Photographer
Rihanna Sued Again For Stealing
Unwise Rihanna Slams Blogs, Bloggers And Readers
85% Of Access Hollywood Viewers Vote That Rihanna Did Not Deserve Esquire's Sexiest Woman Alive Title
Rihanna Embarrasses Herself On Twitter By Falsely Claiming Concert Is Sold Out