Too Late! (LOL)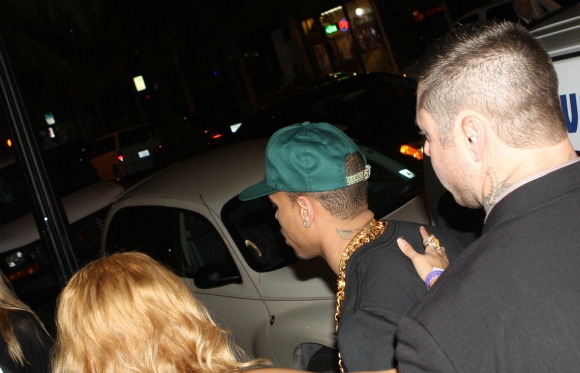 Chris Brown leaving the club with two women
Well what do we have here. R&B singer Chris Brown left the Cameo night club on Miami Beach, then snatched a $500 iPhone from a fan, who was with her two friends, because she snapped him in a somewhat compromising situation. Womanbeater Brown was leaving the club with two blondes and didn't want girlfriend Rihanna to know about it. Uh oh! She knows now.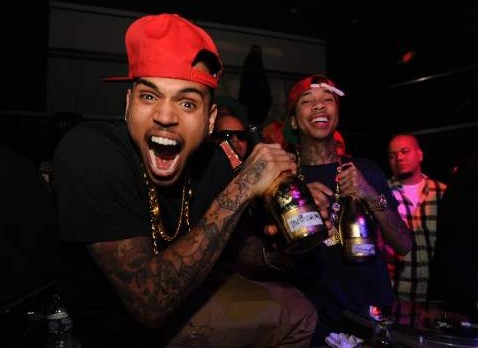 Crazy Chris Brown in the club
Who was the blonde. Was it Brown's sex partner *Kawasaki, who he has been dating for several months. Kawasaki just bleached her long black hair blonde and was photographed with him in Miami on valentine's day, as revealed on other blogs. The blonde with the lighter hair seems to be wearing a Beyonce issued weave, so maybe it's not Kawasaki.
*Remember the film "Jungle 2 Jungle" when Tim Allen's character couldn't get his son's name right and kept calling him Mitsubishi. There are just too many variations of Brown's sex partner's name online.
STORY SOURCE
Police: Chris Brown Stole Camera-Phone so That Rihanna Wouldn't See Pix of Him With Two Women!
RELATED ARTICLES
Photographer's Theft Lawsuit Against Rihanna Will Proceed
Rihanna Stole New Video From Photographer
Rihanna Sued Again For Stealing
Unwise Rihanna Slams Blogs, Bloggers And Readers
85% Of Access Hollywood Viewers Vote That Rihanna Did Not Deserve Esquire's Sexiest Woman Alive Title
Rihanna Embarrasses Herself On Twitter By Falsely Claiming Concert Is Sold Out