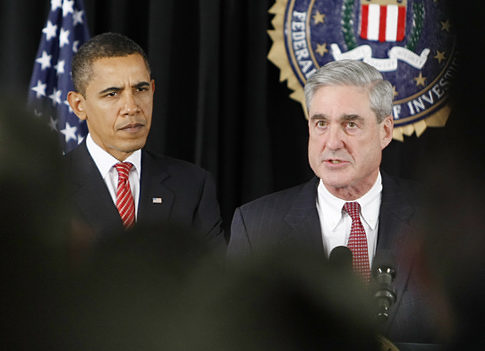 U.S. President Barack Obama and FBI Director Robert S. Mueller
During black history month, the FBI has been publishing stories to its website about their alleged role in establishing civil rights in America, even invoking the late, great Martin Luther King Jr., who past agents say the agency had murdered on J. Edgar Hoover's orders. The entire push seems very insincere, considering the sheer number of civil rights cases, where minorities have been and continue to be subjected to vile hate crimes, continues unabated.
When the current head of the FBI, Robert S. Mueller, a man who is worse than Hoover, singles out all Muslims as terrorists waiting to happen and brainwashed cult devotees, leading to a congressional reprimand only months ago, that says the Federal Bureau of Investigation's claims about racial impartiality at the agency are untrue. When the FBI is sued by its own black and Hispanic agents in modern times for racial slurs and discrimination within the agency, it says the FBI hasn't changed and is a danger to minorities.
RELATED ARTICLE
FBI Training Materials Instruct Agents: Muslims Are Violent People Worshiping Cult Leader Mohammed