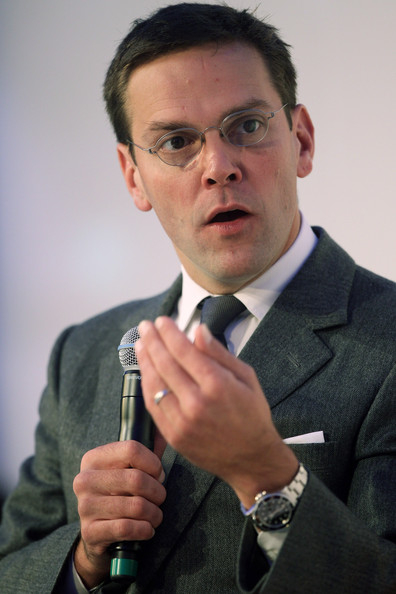 James Murdoch
[Article background: this is another in the series of phone hacking articles the Judiciary Report has published, regarding a scandal I broke first in October 2005, via a police complaint I filed with the Metropolitan Police in London, England. 30 people have been arrested by the Metropolitan Police since the time I filed the complaint. However, the Murdochs and other key conspirators remain free].
Is Rupert Murdoch's son James Murdoch getting a whiff of prison soap in his flared, snooty nostrils, because he has just resigned as head of News International, the News Corp company at the center of the ongoing phone hacking scandal. The company stands accused of criminally hacking into the phones, emails and computers of murdered kids, celebrities, politicians, journalists and bloggers, for scoops to print in the newspaper (often verbatim).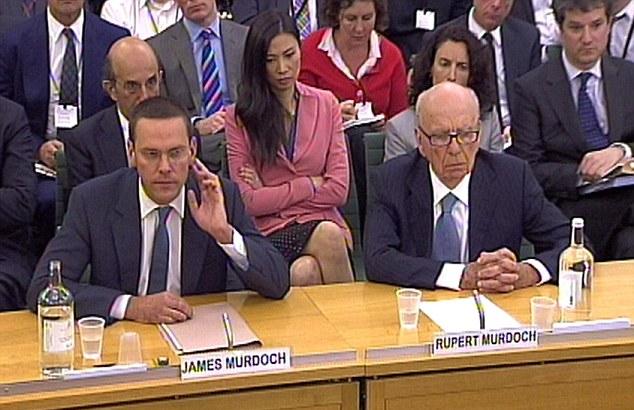 James Murdoch and Rupert Murdoch being questioned while lying in the British Parliament
The Metropolitan Police in London, who regrettably became entangled in the scandal, as having accepted bribes from News Corp to suppress the criminal case and provide protected, private information on people, turned on the company and began arresting employees from News International (News Corp) and their own officers for illegally accepting the payoffs. However, the FBI have looked the other way to the extensive crimes being committed by New York based News Corp and its affiliates in America, headed up by Rupert Murdoch, which are far worse nature than what transpired in Britain.
RELATED ARTICLES
Rupert Murdoch's News Corp Considering Paying Big Financial Settlement To Child Murderer In Phone Hacking Scandal
Journalists At News Corp's News International Angry With CEO Rupert Murdoch After Being Arrested
The British Police Arrest Members Of Rupert Murdoch's Staff At News Corp's Sun Newspaper During A Raid!
The FBI Lies About Properly Investigating News Corp For Phone Hacking, Hacking And Police Bribery
James Murdoch To Be Recalled To The British Parliament In November 2011 Over Lying In Previous Hearing
Will Parliament Legally Compel The Law Firm Harbottle & Lewis To Disclose News Corp Evidence
MP: James Murdoch Lying Under Oath In Parliament Will Be Referred To The Police For Criminal Investigation
Rupert Murdoch Is A Liar And A Coward To Let His Employees Take The Fall For Him
News Corp Continued To Pay Andy Coulson After He Quit To Spy On British Government
Rupert Murdoch's Smug Mug Hit With A Pie During Parliamentary Hearing
Blogger Hacked In The News Corp Phone Hacking Scandal
The Assistant Of News Corp Executive Arrested For Deleting Incriminating Emails During The Phone Hacking Scandal
Rupert Murdoch Slams Brits As Lazy People Who Take Too Many Holidays
Rupert Murdoch's News Corp Criminally Accessed Sir Alex Ferguson's Medical Records And Blackmailed Him With It
Rupert Murdoch Finally Admits His Company's Phone Hacking And Wiretapping Crimes
Rupert Murdoch News Corp Journalist Found Dead