The Boycott Is Going Well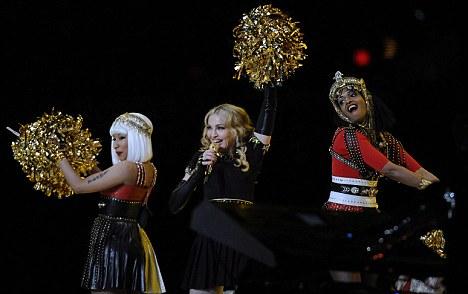 Nicki Minaj (left) and M.I.A. (right), 54-year-old cheerleader, Madonna (center)
The audiences and charts have no love for Madonna's new single "Give Me All Your Luvin" as it has flopped and fallen out of the top 40 overnight. Journalists have branded the terrible track a flop and among the worst of her career. It's just desserts for a chronic thief without an original thought in her vacant head.
She has been sued for stealing the melodies and the beat to "Give Me All Your Luvin" and chunks of the lyrics were stolen from my preexisting copyrights, as mentioned previously (Madonna's Planned Super Bowl Publicity Stunt Costs Rapper MIA Her Relationship With The Father Of Her Child). The Super Bowl performance of the song was a rip off of a years old copyrighted promotional video campaign from my catalog as well.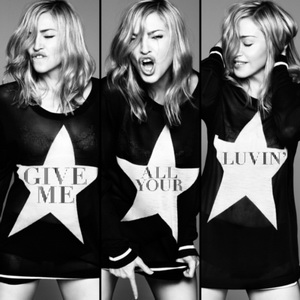 Madonna's copyright infringing single "Give Me All Your Luvin" has flopped. PLEASE KEEP BOYCOTTING MADONNA. THANK YOU!
Originally it was announced her performance would be a Cirque du Soleil style show, but after people began publicly slamming booing the idea of her doing the half time show, she ripped off my copyrighted video treatment for the performance.
My lyrics were not supposed to be sung like that, but then again, Madonna can't sing. She also butchered the song with a couple crazy lines she added. Previously, singer/songwriter Jem complained Madonna stole her song, added two lines and took credit for the entire thing (when the song had roughly 30 lines). What a loser. Needless to say, her comeback is dead. When you can't have a hit after Super Bowl exposure to over 100,000,000 people, you truly suck!
STORY SOURCE
Madonna's single drops out of Top 40
Her single Gimme All Your Luvin' has proved a disastrous flop, despite launching to an audience of 114 million at the Super Bowl. So, it seems not many of you actually L-U-V Madonna after all. Her single Gimme All Your Luvin' has proved a disastrous flop, despite launching to an audience of 114 million at the Super Bowl half-time show.
During the performance, she dressed as an Egyptian – and genuinely looked like she'd been born around 3,000BC – but, sadly, the PR masterpiece hasn't made a huge impact, as the single looks set to drop out of the Top 50 in the Official UK charts this Sunday after debuting at 37 last week...
Give Me All Your Luvin' was her first new track for three years - and a first release under a new three-album deal she signed with music giant Universal. It is the first time the lead track from one of her albums has not gone into the top ten since her debut single in 1982. And most new songs have made it into the top three. Tickets for Madonna's Hyde Park show this summer - part of an international tour - went on sale last Friday and have still to sell out.
RELATED ARTICLES
Greedy Madonna Thinks Her Concert Tickets Are Worth $300 During The Financial Crisis
Madonna's Connection To Phone Hacking And Wiretapping Scandal
The Daily Mail Is Actively Engaging In Hacking, Phone Hacking And Wiretapping
The FBI Corruptly Granted "Sovereign Immunity" In The Aisha v. FBI Case
Madonna Putting Out A Perfume Is Ironic Because...
Madonna Has Been Getting More Plastic Surgery In Trying For A Comeback After Failed Albums
Madonna And Kabbalah Close Their Corrupt Charity Due To Criminal Investigation
Rupert Murdoch Finally Admits His Company's Phone Hacking And Wiretapping Crimes
The Kabbalah Center Viciously Harassing And Threatening Jamaicans
Report: Kabbalah Cult Under Grand Jury Investigation
Madonna Fraudulent Charity For Africa Squanders Millions On Big Salaries & Luxury Items For Greedy Kabbalah Members
Senator Demands FBI Investigate Rupert Murdoch For Hacking Rival & Stealing Their Copyrights
Fox News Has A Secret Phone Hacking Department In The Building Says Former Employee