He Keeps Flipping Out In Miami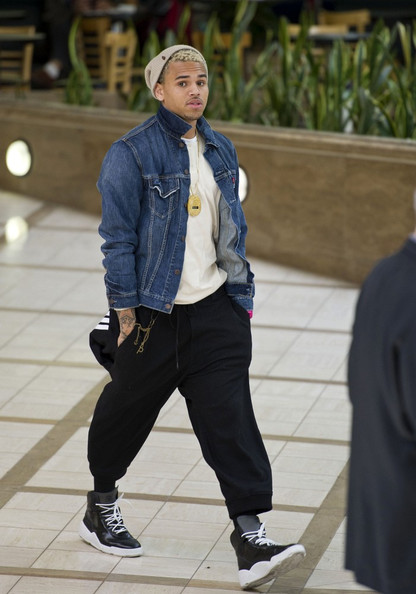 Chris Brown
Sony Music womanbeater Chris Brown is in trouble with the law again. Fresh off criticism he and girlfriend Rihanna are facing, he went and got himself into more problems (Rihanna And Chris Brown Are Publicly Back Together). Brown is accused of snatching a $500 iPhone from a woman in Miami Beach, who snapped a photo of him and rapper Tyga from the sidewalk. As Tyga and Brown drove off, he allegedly grabbed the woman's phone, telling her, "Bit*h, you ain't going to put that on no website."
The woman filed a report with the police, as she wants her phone back. If this story is true, Brown is crazier than I thought. Under the law, one can snap a picture of someone in public. As long as the photo is not something inappropriate, such as an up-skirt, it is lawful.
This month, Brown was also seen angrily chasing seagulls on Miami Beach. Dude, why? What did the birds do to you.
Previously, the Judiciary Report twice shared stories of Brown and his madness in Miami (Chris Brown Showed Up In My Neighborhood and Chris Brown Showed Up In My Neighborhood Again).
On the first occasion, as I was leaving a Bank of America branch five minutes from my home, in a quiet area not frequented by celebrities Brown, his bodyguard and two men in the backseat, drove up in a black Escalade staring at me. I glared at Brown, which caused him to quickly look away and his bodyguard laugh. I was going to meet my mom, cousin and a friend for my birthday dinner at the Cheesecake Factory.
The second time it occurred was months later. I was at the local gas station in my neighborhood, five minutes away from my home and and Brown did the same mess again, but he was by himself in the same black Escalade again, staring at me, only a few feet away. I don't go out much, as I spend most of my time writing copyrights and patents, yet, here we have it, he was able to catch me twice shortly after I left the house. He is in Kabbalah and Madonna put him up to it.
Just like this past December, the brown hair guy from LMFAO walked towards me, in one of my mom's favorite stores JC Penney, as I accompanied her shopping (yes, I'm her official purse and bag carrier). I really didn't notice him, until a little girl and her mom said to me, "That's the guy from LMFAO!" Meanwhile, I started thinking, "Dude, seriously, JC Penney! I thought you were rich" (JC Penney does have nice stuff, though, but its items are moderately priced).
He was with a guy that looked like a bodyguard. Imagine my surprise when several weeks later, he appeared at the Super Bowl as Madonna's DJ. She put him up to approaching me as well, apart of her dumb Kabbalah shenanigans. Then there was the incident when the Sony guy from X-Factor tried to approach me as well (It's Amazing How Simon Cowell Will Stab Friends In The Back For Ratings). They've gone too far.
RELATED ARTICLES
Photographer's Theft Lawsuit Against Rihanna Will Proceed
Rihanna Stole New Video From Photographer
Rihanna Sued Again For Stealing
Unwise Rihanna Slams Blogs, Bloggers And Readers
85% Of Access Hollywood Viewers Vote That Rihanna Did Not Deserve Esquire's Sexiest Woman Alive Title
Rihanna Embarrasses Herself On Twitter By Falsely Claiming Concert Is Sold Out