The Photos Are Morbid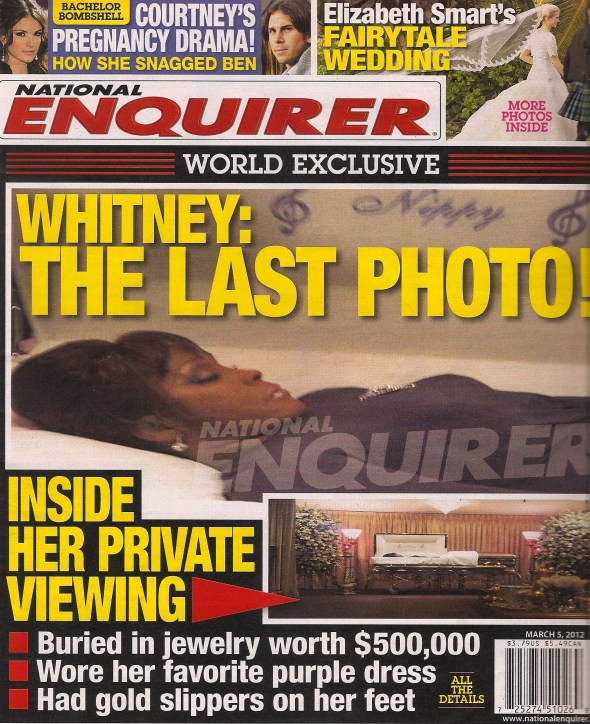 The National Enquirer tabloid newspaper paid someone to provide them with photos of singer Whitney Houston in her coffin, after posting pictures of her dead on the bathroom floor of her suite at the Beverly Hilton hotel in Los Angeles. Though the coffin photo is morbid, Houston looks beautiful. Many people that die under traumatic situations look distressed in their coffin, with their features augmented.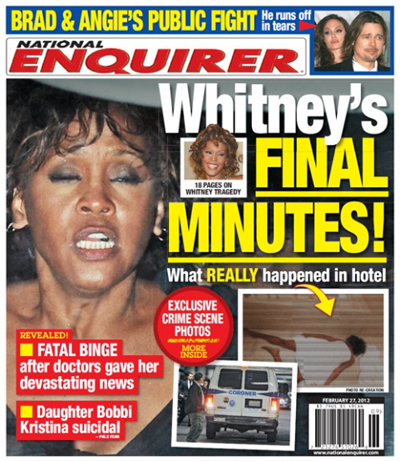 The tabloid is reporting she was buried in $500,000 worth of jewelry, which I hope is not true, as it will attract human vultures to her grave and the lawful liquidation of said baubles could better serve the living, such as her child. Houston's estate is currently up in the air and will face extensive legal wrangling to extract all that is owed to her family and creditors.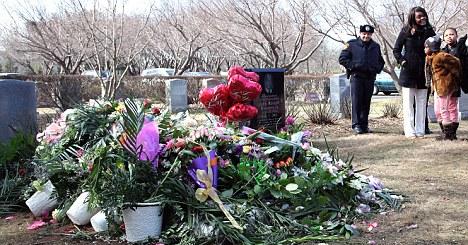 Whitney Houston gravesite
Since the time of her burial this past Sunday, people have flocked to the cemetery in Westfield, New Jersey to take photos of her grave site. It caused traffic jams, which resulted in the cemetery restricting access solely to people with loved ones buried there. Hopefully her grave will remain undisturbed.
RELATED ARTICLES
Will Bobbi Kristina Brown's Drug Use Spiral Out Of Control With The Death Of Her Mother
Whitney Houston's Family Needs To Hire A Law Firm And Accounting Agency For A Forensic Audit Of Her Finances
Singer Whitney Houston Given A Very Touching Funeral In New Jersey
Whitney Houston's Ex-Husband Bobby Brown Left Her Funeral After A Dispute With Security
Bobby Brown's Tribute To Whitney Houston Last Night Shows There's A Problem There
Bobby Brown Reportedly Not Wanted At Whitney Houston's Funeral Or To See His Daughter
Drugs And Alcohol Transformed Whitney Houston Into A Different Person
Whitney Houston Is The Latest Hollywood Star To Die Under Tragic Circumstances
Reports Indicate Whitney Houston Has Lost All Of Her Money And Is Asking For Donations
Whitney Houston Back In Rehab As Daughter Is Arrested